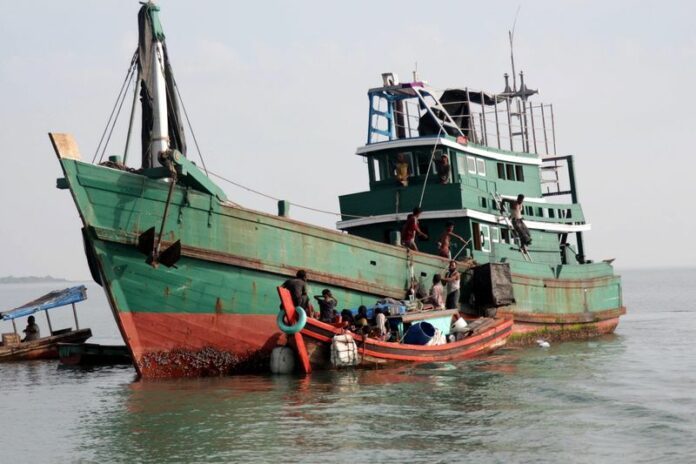 KUALA LUMPUR (DPA) — Thousands of boat migrants from Myanmar and Bangladesh will be allowed to come ashore in Malaysia and Indonesia according to an agreement reached Wednesday, amid international pressure for a solution to South-East Asia's migrant crisis.
The Malaysian and Indonesian foreign ministers made the announcement after talks – also attended by Thailand – over how to deal with the stranded migrants, mostly from the persecuted Rohingya minority in Myanmar.

Refugees from Myanmar and Bangladesh are rescued by Aceh fisherman in Julok, East Aceh, Sumatra, Indonesia, 20 May 2015. EPA
"Indonesia and Malaysia agreed to continue to provide humanitarian assistance to those 7,000 irregular migrants still at sea," Malaysian Foreign Minister Anifah Aman said alongside his Indonesian counterpart Retno Marsude.
"We also agreed to offer them temporary shelter provided that the resettlement and repatriation process will be done in one year by the international community," he added after the meeting near Kuala Lumpur.
Anifah warned that Malaysia and Indonesia have limited resources to help the migrants and called on the rest of the world to help.
He added that Indonesia and Malaysia would not actively search for migrants in the sea, but would only provide assistance to those who come to their shores.
Indonesian Vice President Jusuf Kalla released a statement after the conference confirming the agreement.
He clarified that the Bangladeshi migrants from the boats would be repatriated "because they are economic migrants."
"As for the Rohingya, we will let them stay while awaiting for resettlement in a third country," he said.
Although Thailand put its name on a joint statement outlining the deal, it will not take in any migrants as part of the agreement.
Thai Foreign Minister Tanasak Patimapragorn left before the press conference, reportedly left after saying that he needed to consult local laws.
Earlier Wednesday, Indonesian fishermen rescued more than 370 migrants, many from Myanmar's Rohingya minority, from two boats, a rescue official said.
They were evacuated from the boats off northern Aceh province, said Khairul Nova, the chief of the search and rescue agency in the town of Langsa.
"They were dehydrated, hungry and very weak," Khairul said. The boat people include men, women and children, he said.
The rescue came after the military urged fishermen not to help migrant boats reach the country's shores unless they were sinking or their boats stall.
The latest arrivals brought to nearly 1,800 the number of Rohingya and Bangladeshi migrants rescued off Aceh this month.
Military spokesman Fuad Basya said the fishermen were apparently not aware of the military's calls not to bring the migrants ashore.
"The fishermen had been in the sea for several days when they found the refugees," Fuad said.
Read more:
More Than 370 Migrants Rescued by Indonesian Fishermen
Rohingya Are Illegal Migrants, Not Refugees: Thai Army Chief