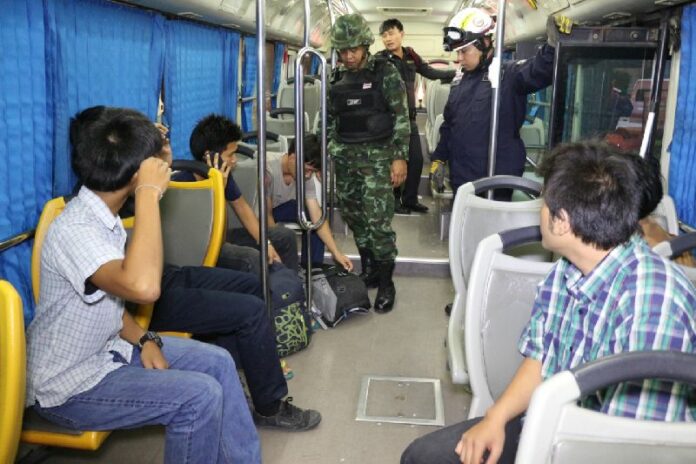 BANGKOK — Thai education officials may institute an army-run "prep camp" aimed at diffusing long-running gang rivalries between students at polytechnic colleges in Bangkok.
Chaiyapruek Serirak, sec-gen of the Vocational Education Commission (VEC), said the orientation program would feature lectures from army officers, and be open to students from different schools.
"They would mix with students from other colleges, join in activities together, and get to know each other," Chaiyapruek said today. "Tomorrow I will invite directors of 22 'risky' colleges, both private and state-owned, for a joint meeting to empathize measures to prevent further fights."
A similar camp was held at a Navy base in Chonburi province earlier this year.
Gang violence between students at Thailand's technical colleges is common, and occasionally leads to injuries or even deaths of students and bystanders.
Chaiyapruek's comment came a day after a public bus in Pathum Thani carrying four students from Don Muang Technical College – two of whom were carrying small swords – was attacked by suspected members of a rival gang. Police say around 20 students hurled stones at the Route 187 bus near Future Park Rangsit shopping mall after they reportedly spotted the four students inside.
The attack took place two days after technical colleges in Pathum Thani began their first semesters.
Speaking to reporters today, Chaiyapruek commended the bus driver for quickly shutting the bus door and speeding away from the scene. "Otherwise, some unimaginable incident may have happened," he said.
The official also urged administrators of technical colleges to keep an eye out for abusive hazing practices as the school year kicks off.
"In the first few weeks of each year's [academic semester], there are incidents of senior students organizing hazing without permission or knowledge of the teachers. It often involves abuse and can lead to fights, sometimes even deaths," Chaiyapruek said.
He urged students and parents to report any knowledge of harmful hazing to school administrators immediately.