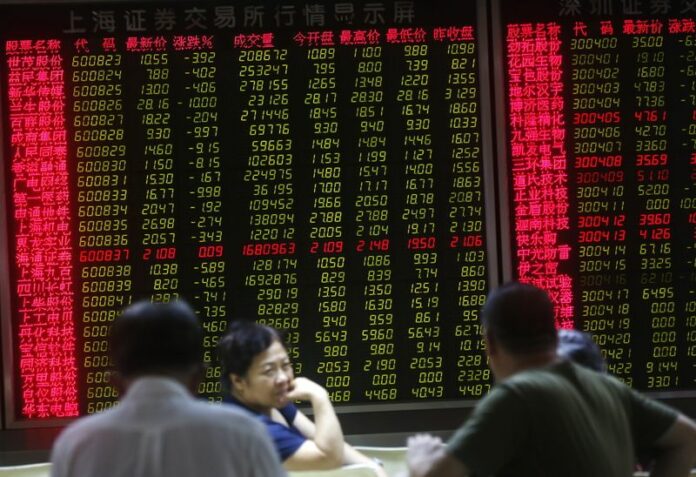 BEIJING (DPA) — Chinese stocks plunged Tuesday, with the benchmark Shanghai Composite Index closing down 1.3 percent after tumbling 3.2 per cent at opening.
The Shenzhen Component Index closed 5.8 per cent lower, while the ChiNext Index, tracking growth enterprises, closed 5.7 per cent lower.
The continued volatility in the markets suggests that measures announced over the weekend to shore up share prices may not be enough to reverse the recent falls, analysts say.
"I dont want to see more government measures comes out," said Hu Xingdou, professor of economics at the Beijing Institute of Technology. "There are enough measures but they have barely affected the market."
"I think we should respect the market rule and try to improve standards for the capital market in order to build up confidence for long-term investment, rather than a short-term speculation," he told dpa.
Chinese premier Li Keqiang, who holds a doctorate in economics, said at the start of his tenure in 2013 that China will allow the market to play a bigger role in economic innovation.
But Chinese authorities have acted aggressively in recent weeks to try to stop the stock market slide.
Twenty-eight Chinese companies said over the weekend they would postpone initial public offerings and would refund money already paid, the official Xinhua news agency reported.
China's major securities brokers also vowed Saturday to spend at least 120 billion yuan (19.62 billion dollars) on a fund to invest in blue chip-based exchange traded funds.
The announcements followed measures from Beijing, such as a cut in interest rates and an announcement that government agencies would lend money to brokerages, that had failed to reverse the slump.
The Shanghai Composite Index has tumbled by nearly 30 per cent since a peak on June 12.
The stock declines were seen to be caused partly by investor unease over new margin-trading restrictions.
Margin trading, where investors borrow money from brokers to buy stocks, had fuelled recent rises in the stock market and raised concerns that margin debt has created a bubble.
(Reporting by Joanna Chiu)