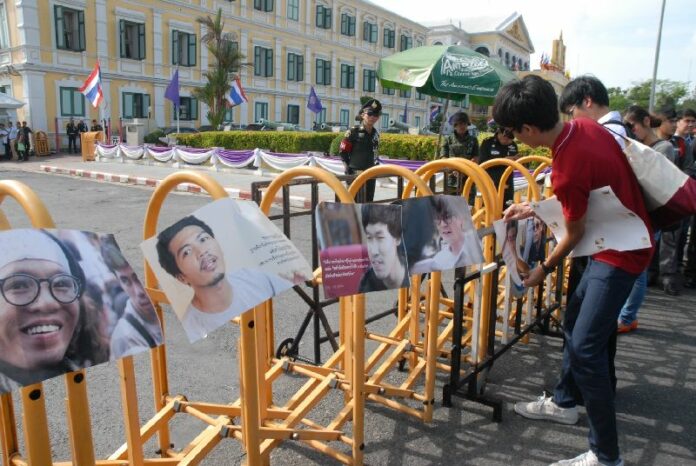 BANGKOK — The fourteen activists jailed for their peaceful protests against the military junta will spend one more night in jail after the martial court ruled to release them this morning, according to a top prison official.
The fourteen, eleven of whom are university students, were arrested on 26 June after they organized a small demonstration against the junta in front of Bangkok's Democracy Monument.
A military court ordered the group to await trial in prison, but decided to release them after 12 days this morning. The activists' lawyers argued in court today that the fourteen defendants had no intention to flee the country or interfere with the evidence.
However, Witthaya Suriyawong, chief of the Correctional Department, said prison officials are required to detain the fourteen activists until the 12-day detention session expires at precisely one minute past midnight.
Prison regulations also forbid releasing prisoners at "night time," which means the fourteen will not be released until tomorrow at 8 am, he said.
According to Witthaya, the regulation applies to both Bangkok Remand Prison and the Bangkok Central Women Correctional Institution, where the thirteen men and one woman are being detained, respectively.
"We have to release them tomorrow morning," Witthaya told reporters.
The news of the delay has angered some the group's supporters, who were planning to assemble outside of the two prisons tonight to welcome the activists.
Over the past 12 days, the jailing of the activists has sparked the largest public show of dissent against Thailand's military junta since the first week after the 22 May 2014 coup. Hundreds of people in Bangkok, Chiang Mai, and cities around the world have staged demonstrations to show their support for the group and demand their immediate release.
The 14 activists, who call themselves the New Democracy Movement, are facing up to 7.5 years in prison for charges of sedition and violating the junta's ban on public gatherings with their peaceful rallies. They are also still facing additional outstanding arrest warrants for organizing anti-junta demonstrations on the one-year anniversary of the 22 May coup d'etat.
The 14 activists include Rangsiman Rome, Chonticha Chaeng-rew, Ratthapol Supasopon, Songtham Kaewpanpruek, Pornchai Yuanyee, Pakorn Arrekul, Abhisit Sapnaphana, Jaturapak Boonpatararaksa, Apiwat Suntararak, Payu Bunsophon, Panupong Srithananuwat, Suwitcha Thipangkorn, Supachai Pukrongploy, and Wasan Sethsitthi.
The last seven are members of Dao Din, a social justice group formed by law students at Khon Kaen University.