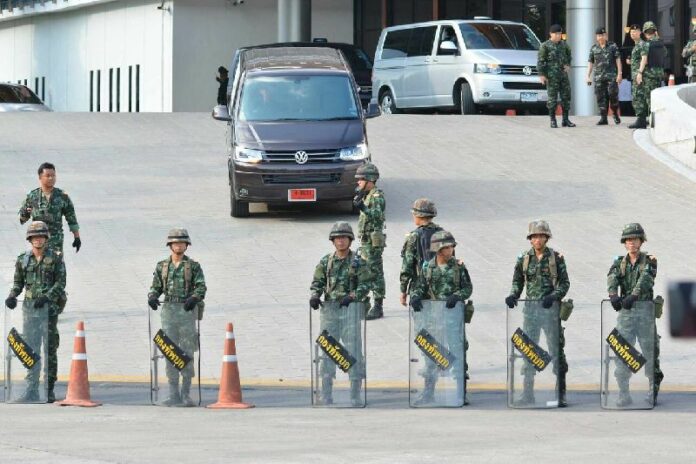 BANGKOK — The secretary-general of Thailand's ruling military junta has urged Thais living abroad to explain the reasons behind the May 2014 coup d'etat to foreigners.
"I want all of you who live abroad to explain the situation in our country to foreigners, so that they can understand what happened," said Gen. Chatchalerm Chalermsuk. "That the military does not want to hold on to power, and how we have been trying to restore peace in the country and move the nation forward, and enforce the laws."
Gen. Chatchalerm made the remark in an address to representatives of a Boston-based Thai charity who met with him at Government House in Bangkok to donate one million baht to soldiers stationed in southern Thailand to combat a separatist insurgency.
Gen. Chatchalerm said he has been explaining to foreign government officials during trips abroad that the military was forced to stage the coup on 22 May 2014 because the country's political situation had reached a dead end.
"I have traveled to the United States and Australia to explain that this government will move along our road map, which will lead to an election," Gen. Chatchalerm said. "In the past, we had no exit, because the [former] government would not resign … And there were groups that came out to oppose the government. The military was afraid that it would lead to clashes. We could not let the situation to escalate beyond our control."
The coup followed six months of street protests organized by a conservative, royalist movement called the People's Committee for Absolute Democracy With the King As Head of State (PCAD), which sought to replace then-Prime Minister Yingluck Shinawatra with a new leader directly appointed by the king. Nearly 30 people died in the protests, largely due to attacks on the protest camps committed by suspected pro-Yingluck militants, and clashes between protesters and security officers.
On 7 May 2014, the Constitutional Court removed Yingluck from office for allegedly transferring an official without due cause, and the military staged a coup against the remnants of her government two weeks later.
In today's speech, Gen. Chatchalerm also said he was concerned that some Thais are distorting information about the monarchy and the Kingdom's lese majeste law, which forbids any criticism of the Royal Family.
"Some people have fled their lese majeste charges to the United States. I don't know what the King has ever done wrong to these people," Gen. Chatchalerm said. "They have distorted the facts by saying that lese majeste has been used to score political gain. They break the laws, but they don't accept it when they are arrested. I have already explained to farang [Westerners] that His Majesty the King and the Royal Family would not file libel charges on their own, so officials must do it instead. We have never used this law for political gain."
Thailand's lese majeste law, the harshest of its kind in the world, punishes any action or comment deemed negative of the monarchy with up to 15 years in prison.
The number of lese majeste cases has spiked considerably since the May 2014 coup, which was led by staunch royalist Gen. Prayuth Chan-ocha. Nearly 50 people have been charged with lese majeste over the past year, and more than half of them have been denied bail while they await trial, according to iLaw, a watchdog group that tracks legal cases in Thailand.
The
military government has also unsuccessfully
sought to extradite
lese majeste suspects who have fled abroad. Officials say 31 people charged with lese majeste are currently living in exile, with 14 of them residing in neighboring Laos.