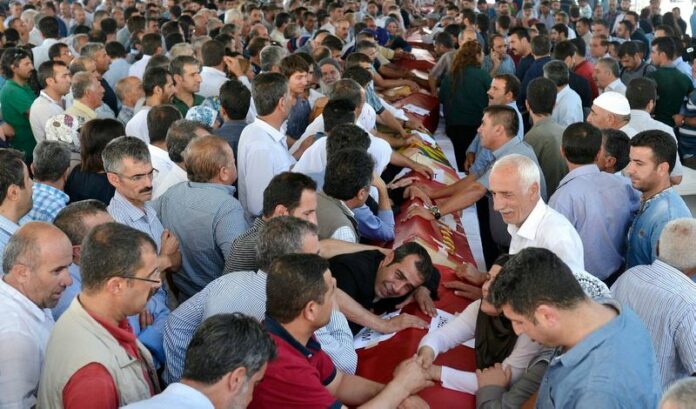 ISTANBUL (DPA) – Turkish F16 jets launched pre-dawn airstrikes Friday against the Islamic State group in Syria, the prime minister's office said.
The strikes followed cross-border clashes on Thursday between the Turkish army and the Islamic State in which one Turkish soldier and five militants were killed, according to the army.
Prime Minister Ahmet Davutoglu decided on the military response to the border clash at a top level security meeting on Thursday, a statement from his office said.
It has been a week of turmoil in Turkey after a suicide bombing, blamed on the Islamic State, killed at least 32 at a gathering of pro-Kurdish activists on Monday in Suruc, near the Syrian border.
The bomber, according to initial reports, was a 20-year-old Turkish citizen who may have fought in Syria for the extremist group.
It emerged on Thursday that Turkey had agreed to allow the United States to use the US-Turkish Incirlik air base, broadening its ability to strike Islamic State targets.
Washington has long been pressing Ankara to take a more active role in the fight against the militant group, which controls large swathes of territory in Iraq and Syria and has launched numerous attacks further afield.
Syrian-Kurdish fighters from the People's Protection Units (YPG) are the main US ally on the ground in the fight against the Islamic State group in Syria, sparking concern in Ankara about stoking nationalist sentiment within its own Kurdish minority.
The Kurds have pushed the Islamic State back from most territory it seized last year along the border with Turkey. The Kurds now control about 400 kilometres of territory along the Turkish border, while the Islamic State holds about 80.
The YPG are often seen as a sister organization of the armed Kurdistan Workers' Party (PKK), which has been engaged in a peace process with the government since a ceasefire was agreed in 2013.
The PKK said it killed two Turkish police officers this week, alleging they had collaborated with the Islamic State to orchestrate the attack in Suruc.
Tensions have been rising in recent weeks between the state and the PKK and there have been sporadic violent incidents.
Kurdish officials have repeatedly complained the armed group's jailed leader, Abdullah Ocalan – who has spearheaded talks with the government – has been unable to receive visitors since April.
Adding to the volatile situation, Turkey currently has an interim government. The ruling Justice and Development Party (AKP) is seeking a coalition partner after losing its parliamentary majority in last month's elections for the first time since 2002.
Turkey could be forced to hold fresh elections later this year if no deal is reached.