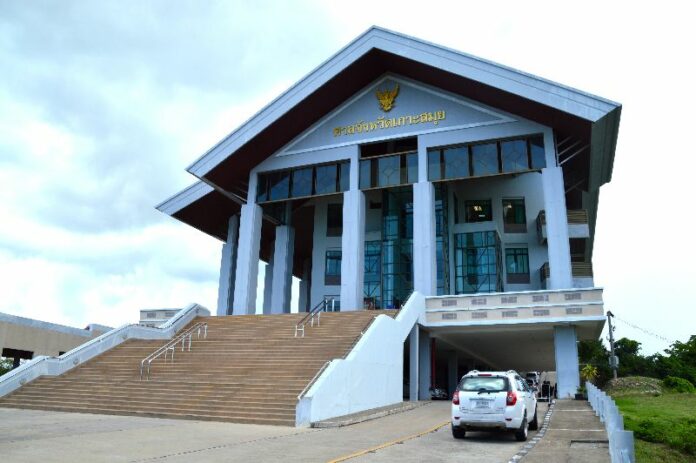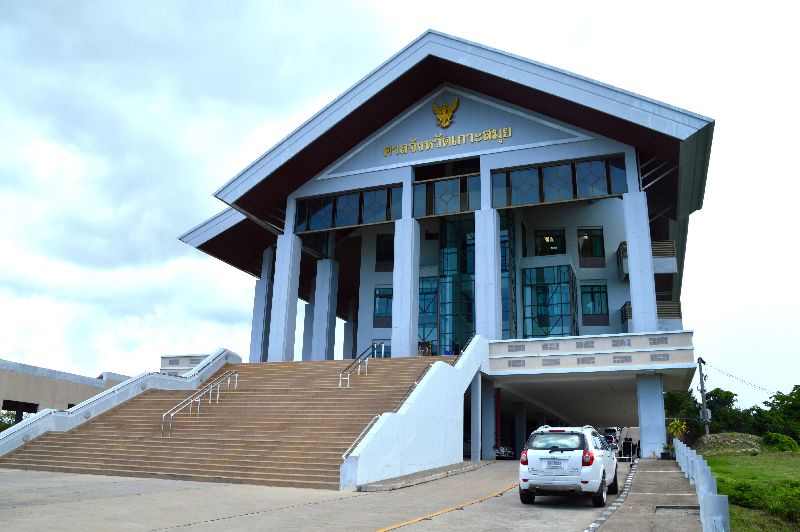 SURAT THANI — The head of Thailand's Central Institute of Forensic Science will testify in defense of two Burmese men accused of killing two British backpackers in southern Thailand last year.
Judges ruled on Friday to add an additional day to the trial to allow for CIFS director Pornthip Rojanasunand to take the witness stand at Koh Samui Provincial Court on 11 September.
Pornthip's appearance was requested by the defendants' lawyers because her agency, which falls under the jurisdiction of the Ministry of Justice, is re-examining pieces of forensic evidence from the case that have only been tested privately by police. Pornthip is well-known in Thailand for disagreeing with police in several high-profile cases.
Four items collected from the crime scene on Koh Tao's Sairee beach, including the garden believed to be used in the murder, have already been sent to the CIFS for a second examination. On Thursday, the court learned that solutions containing DNA traces taken from the victims' bodies may also be available for a re-test.
Defense lawyer Nakhon Chompuchat said his team is still discussing which additional evidence to send to the forensic institute.
"We want to consult with Dr. Pornthip first," Nakhon told Khaosod English on Friday.
The defense lawyers have expressed concern about their inability to access 'chains of custody' from the investigation, which are documents tracking the collection, movement, processing, and current location of all physical evidence. The lawyers, who have requested the documents but not recieved them, said they want to confirm that no evidence was tampered with in the process.
The prosecutor said he could not comment on the case while the trial is ongoing.
The suspects, Zaw Lin and Wai Phyo, have spent the past year in jail and are facing the death penalty on charges of murdering David Miller, 24, and raping and murdering Hannah Witheridge, 23, on the night of 15 September 2014.
Zaw Lin and Wai Phyo have insisted on their innocence, and said they initially confessed to police because they were beaten and threatened by officers who interrogated them without a lawyer.
The men, who originally hail from Myanmar's Rahkine state, had been working on Koh Tao for less than a year before they were arrested. The are both 22 years old and around 150cm tall.
"We are confident they didn't do it,'" said Andy Hall, a migrant workers' rights activist from the UK who is assisting the defense team. "And we are confident that the court will deliver justice."
Controversial CIFS Chief
Pornthip led the CIFS from 2008 until 2013, when the government of then-Prime Minister Yingluck Shinawatra declined to extend her career. She was later re-instated as CIFS director in June 2014 by the military junta that toppled Yingluck's government less than a month earlier.
Pornthip pioneered the Thai justice system's focus on DNA evidence during her tenure at CIFS, but has also become a household name in Thailand for her connection to several controversies.
For years, she publicly defended the Thai military's use of fake "bomb detectors," called GT200s, which were later proven to be fradulent equipment sold to the Thai military by a British conman who was ultimately convicted for fraud.
Earlier this month, the Medical Council of Thailand also found Pornthip guilty of an ethics breach for giving false testimony as an expert in the inquest of a businessman who was found dead in his mansion in 1999. She will appeal the Council's ruling, Daily News reported.
DNA implicates defendants: police
In court yesterday – the final day of the trial's second session of prosecution witnesses – judges heard from two police officers who said they tested evidence collected from the crime scene that matched the DNA of the suspects.
The second witness, Pol.Col. Wathee Asawutthimangkul from the Institute of Forensic Medicine, told the court that he was provided with genetic profiles of the suspects that matched semen collected from Witheridge's body that he tested in his lab.
All forensic officers in court this week told the judges that their testing was conducted in accordance with regulations, their machines met international standards, and they had no knowledge that any evidence was tampered with.
The trial is taking place over several staggered sessions and will conclude in late September, with a verdict expected in October.
Timeline of the Koh Tao murder investigation
For comments, or corrections to this article please contact: [email protected]
You can also find Khaosod English on Twitter and Facebook
http://twitter.com/KhaosodEnglish
http://www.facebook.com/KhaosodEnglish