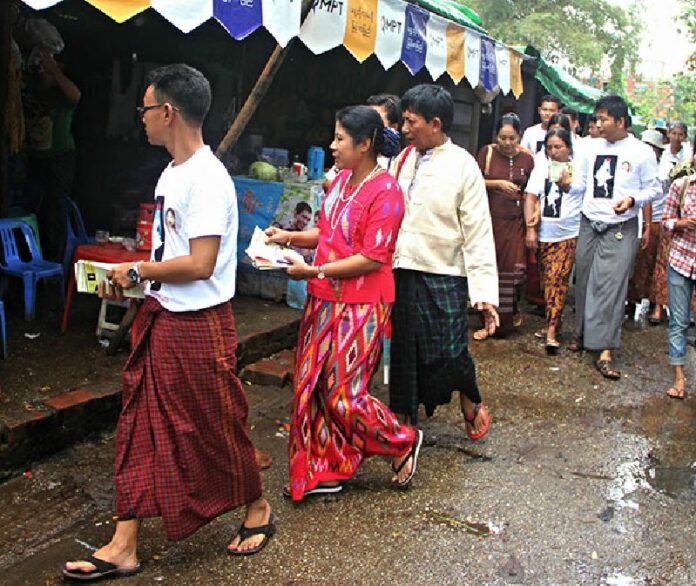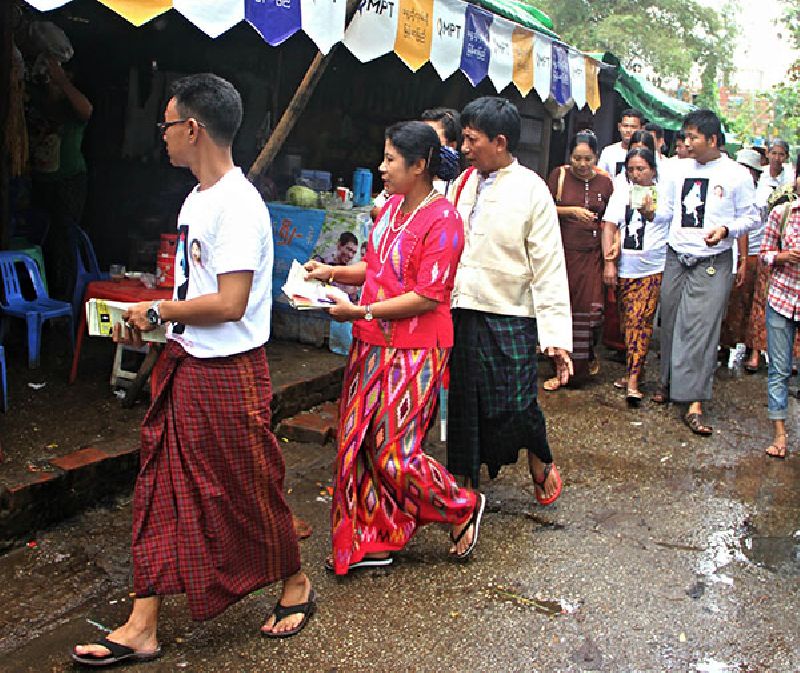 By Ei Cherry Aung
YANGON — When Nang May Oo told her husband a few weeks ago she planned to stand as a candidate in Myanmar's 8 Nov. general elections, he was less than thrilled.
"Will you contest in Taunggyi? No way!" she said was his response to her plan to contest a state parliament seat in the Shan State capital of Taunggyi as a candidate for the Shan National League for Democracy, or SNLD.
After arguing that she was the best hope for a Shan party victory in the area, he relented and agreed she could run, despite his concerns for her safety while campaigning in the region, which has long been destabilised by low-level ethnic conflict and a rampant trade in illicit drugs.
"My husband tried to stop me but I didn't care, I want to get into parliament with the SNLD," said the 46-year-old mother of one. "I want to improve the situation of my Shan people."
Like Nang Mya Oo, many female candidates in Myanmar's election – the first in decades to be contested by all main opposition parties – told Myanmar Now they are keen to exercise new political rights following the end of military rule, but face pressure not to run from concerned husbands and family members.
Although the country's most famous politician, opposition leader Aung San Suu Kyi, is a woman, Myanmar's conservative society presents significant hurdles to women's participation in politics.
Women who do gain the support of their families to run as candidates said they subsequently had to endure insults, rumors and political attacks based on negative gender stereotypes.
"Our society still cannot come to terms with the fact that women can also play a leadership role," said May Sabai Phyu, director of Gender Equality Network Myanmar.
Just 13 percent of the 6,074 candidates in the November parliamentary election are women, according to the Union Election Commission, although their participation is considerably higher than in all previous polls.
Nyo Nyo Thin, an independent lawmaker representing Yangon's Bahan Township in the Yangon Region Parliament, campaigns in her constituency in this undated photo. She is contesting a Lower House seat in the upcoming elections. Photo: Myanmar Now
Dropping Out
Nan Shwe Kyar, secretary of the Mandalay-based Wun Thar Nu Democratic Party, said her small party approached 20 women several months ago and asked them to run as candidates, but only three made the final list. The others stepped aside after their families voiced concerns.
In the 2010 general elections – which many believe were rigged by the then-junta – 45 out of 101 female candidates were voted in as lawmakers. In the 2012 by-elections, 26 women ran for political office, 13 of whom were elected as representatives, according to figures from the commission.
In the upcoming elections, 228 Myanmar women will run for seats in the Lower House, 119 for seats in the Upper House and 444 for a role in the legislatures of the states and regions, according the Union Election Commission.
"The number of woman candidates has increased compared with the previous elections but the percentage remains low," said Devi Thant Cin, spokeswoman for Myanmar Green Network, an environmental NGO. "Capable women should be welcomed into politics."
The opposition National League for Democracy of Aung San Suu Kyi is the party fielding the most women candidates at 168, while 72 women are running for the ruling Union Solidarity and Development Party (USDP).
Rumors and Insults
Women candidates say they have to endure slurs and malicious rumors, while some also fear for their safety as they campaign in their constituencies.
"My male rivals looked down on me because I'm a woman. They sometimes said nasty things to me," said Nyo Nyo Thin, a respected, independent lawmaker representing Yangon's Bahan Township who is contesting a Lower House seat. She added that she would file an official complaint with the Union Election Commission if she suffered any insults based on her gender.
Cheery Zahau, a candidate for the Chin Progressive Party in Chin State's Falam Township, said rumors were spread about her because she is an unmarried woman living alone.
"One thing about being a young, single and a woman is that I have to endure a lot of smears and attacks on my integrity. I was accused of getting pregnant and then having an abortion. I was also accused of having affairs with this person or that," said the 34 year old.
"It's still happening," she said. "I don't have time to deal with them so I just focus on my work. I know the truth."
Bawk Jar, the chairperson of the small opposition National Democratic Force in Kachin State who is contesting a Lower House seat in Myitkyina Township, said she faced similar problems while campaigning in parts of the remote, northern state. "As I was accompanied by some male colleagues during the campaign trips, some people claimed we were having relations," she said.
Personal safety is also a concern. Phyu Phyu Thin, a candidate for the NLD in Yangon's Mingalar Taung Nyunt Township, said: "I am not very confident about my safety in Yangon during the campaign – the situation would be even worse for women in the conflict-affected areas."
But Toe Nandar Tin, a female candidate for the ruling USDP, also running in a Yangon constituency, said she did not feel troubled by negative gender stereotypes as she was confident of the skills she acquired while working in business and traveling abroad.
"I will contest in the upcoming elections and serve the country and people with my knowledge and international experience," she said. "I will promote equal rights for women and am confident of my experience when compared with the men."
Supporting Women in Politics
Women candidates and activists said there is an urgent need to address negative attitudes toward women and girls in Myanmar.
"Our society – the whole of Myanmar – has double standards. There isn't a system to support women who want to do this (politics). You have to struggle on your own," Cheery Zahau said.
"I wouldn't be like this if it wasn't for my father. He never treated me differently because I was a girl… But many families would tell their daughters to behave a certain way and stay at home. When you are treated like that from the age of two, it's difficult to expect them to be assertive later."
Khon Ja, an activist with the Kachin Peace Network, said it was crucial for more women to be elected so that they can promote the rights of women and children in parliament. She said it was unclear how many women would be running for ethnic minority parties, which are expected to form a significant bloc in the next parliament.
Mar Mar Oo, deputy chief of labor affairs at 88 Generation Peace and Open Society, said: "The capacity of women should be promoted for more woman candidates to enter parliament.
"Unfortunately, many graduate women in Myanmar are now housewives and dependent on their husbands. More opportunities should be opened up for such women."
Story: Myanmar Now
Myanmar Now is an independent news service providing free, accurate and unbiased news to the people of Myanmar in Burmese and English. It is supported by Thomson Reuters Foundation.
To reach us about this article or another matter, please contact us by e-mail at: [email protected].