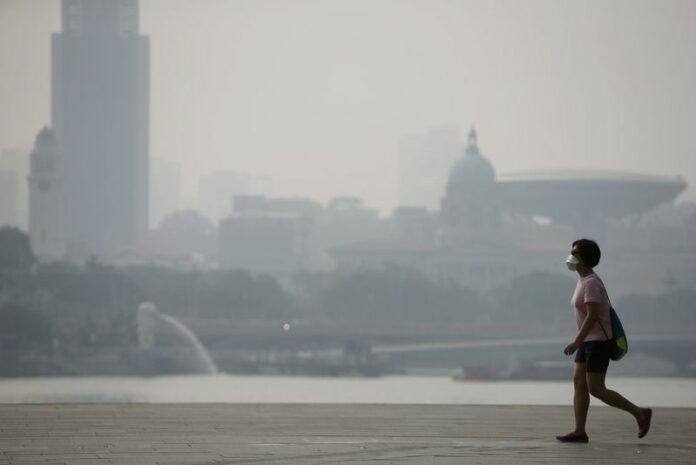 SINGAPORE — Major retailers in Singapore are being asked to declare that they are not buying or using wood, paper or pulp materials from companies accused of causing fires to clear land in Indonesia that have led to haze blanketing parts of the region.
The Singapore Environment Council and Consumers Association of Singapore said Wednesday that major supermarkets, pharmacies and furniture retailers have been sent declaration forms to confirm that they have not procured materials from "unsustainable sources."
"These major supermarkets, pharmacies and furniture retailers operate several outlets from which consumers purchase paper-based products," the statement said. "They are a good starting point for retailers to commit to a green procurement process and for consumers to show their support for brands that have environmentally friendly practices."
Twelve companies have responded so far, among them Fuji Xerox Singapore Pte Ltd and Canon Singapore Pte Ltd, saying that their products have not been sourced from companies suspected to be responsible for the air pollution over parts of Indonesia, Singapore and Malaysia.
Major supermarket chain NTUC FairPrice also announced on Wednesday that they have withdrawn all products sourced by Asia Pulp & Paper Group after the environment council temporarily restricted use of the Singapore Green Label certification for all the company's products.
Choking on Smog
In Thailand haze-related problems caused four flights, inluding two international flights, to be diverted from Phuket Island in the country's south.
"A Jet Star flight flying from Singapore and a Malaysia Airlines flight from Kuala Lumpur were both diverted to Penang in Malaysia," Phuket Airport director Thanin Kamnansingha said.
The official also revealed that 11 more planes had to enter holding patterns around the airport before being allowed to land.
It is the first time that haze-related problems had affected airline activity in Thailand.
Haze from forest fires is an annual hazard in Indonesia and often spreads to other parts of Southeast Asia, including Singapore. The practice of open burning to clear land is illegal but is common in Indonesia.
Related stories:
Indonesian Smoke Spreads to Thai South, Sickening Hundreds
Indonesian Haze Forces Singapore to Close Schools
To reach us about this article or another matter, please contact us by e-mail at: [email protected].