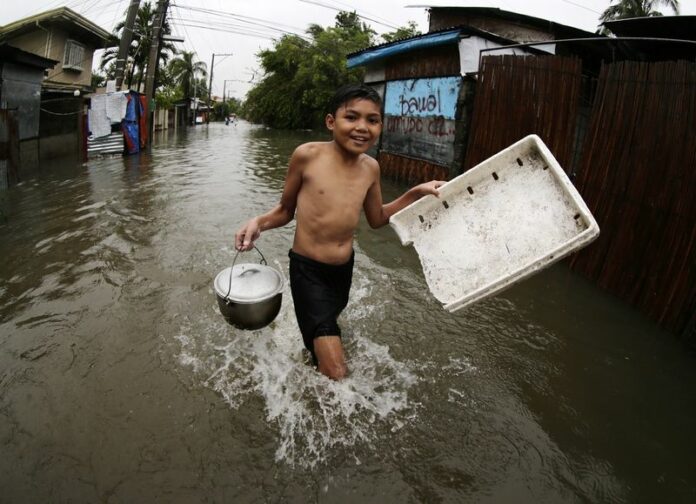 MANILA — The death toll from Typhoon Koppu in the Philippines rose to 14, officials said today, as emergency teams rescued victims stranded by floods and began clearing areas damaged by the storm.
In the biggest loss of life reported from a single incident, seven people drowned when a motorboat capsized in choppy seas off Iloilo City, 460 kilometers south of Manila, the coastguard said.
The boat had just left port on Sunday when it was battered by huge waves and strong winds. Thirty-two people were rescued, but two were still missing.
Koppu slammed into the country early Sunday, displacing thousands, toppling trees and cutting off electricity.
More than 20,000 people were displaced, while about 6,530 passengers were stranded after dozens of flights were cancelled and sea travel was suspended.
Although it had weakened since the weekend, the slow-moving typhoon was still over the very northern part of the country, packing maximum winds of 120 kilometres per hour (kph) and gusts of up to 150 kph, the weather bureau said.
It was moving north-northeast at just 5kph. The typhoon's slow passage meant it had time to inflict more rain and wind damage compared to a faster-moving storm of the same strength.
Other fatalities included three people hit by fallen trees or collapsed masonry, and two who drowned in floods in the northern province of Nueva Ecija.
One man was buried in a landslide in Benguet province, while another was electrocuted in Tarlac province, local and disaster relief officials said.
Soldiers, police officers and other emergency workers were dispatched to Nueva Ecija, a rice-growing province where murky floodwaters reached up to rooftops in some places.
Stranded residents' calls for help were sent via the disaster relief agency's website and Twitter account, or through radio stations.
"My family trapped on this location, please send rescue," one tweet said, which included a map. Another tweet said, "Please help them. Several houses have already been swept away."
Story: DPA