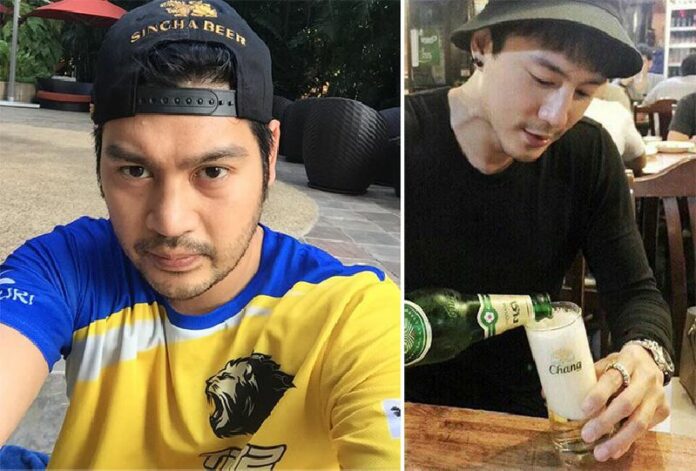 BANGKOK — When controversy erupted earlier this month involving celebrities, social media and beer, the public had an unlikely source to thank for the full-blown media convulsion that ensued.
The man who brought the possibly illegal use of Instagram to promote Chang Classic to public attention, a scion of the archrival Singha Beer conglomerate, said through a rep today however that his actions were not driven by competition.
"This deliberation by law enforcement officials will set a standard for alcoholic beverage business operators in the future, about what can and cannot be done," Chatchai Wiratyosinond told the Alcohol Control Board today on behalf of Piti Bhirombhakdi. "This is not about an issue between Chang and Singha."
---
Anyone Posting Booze Pics Will be Prosecuted, Anti-Booze Official Says
---
On Oct. 10, the Alcohol Control Board and police launched an investigation into 30 actors, actresses and singers who posted to Instagram photos of themselves with Chang Classic, a recently introduced beer line from Chang's brewery, ThaiBev.
The investigation came after Piti, an executive at Singha brewer Boon Rawd, posted on Facebook that the celebrities may have violated the 2008 Alcohol Control Act, which forbids advertising alcohol by even showing brand logos or "enticing" others to drink.
A number of celebrities in connection to the suspected Chang campaign have been summoned to testify to the Alcohol Control Board. Piti was also summoned to give testimony as the person who raised the issue but sent his representative, Chatchai, to report to the board instead.
After two hours of talks with board officials, Chatchai told reporters that Piti did not come in person today because he had other business to attend to. Chatchai also sought to play down Piti's role in the investigation.
"Mr. Piti is not the person who filed the complaint. He's not a witness either, because he wasn't with those celebrities and artists when the wrongdoing happened, and he isn't aware of marketing plans of other alcoholic beverage business operators," Chatchai said. "He merely expressed his personal opinion on Facebook and raised the issue for society."
Alcohol Control Board director Samarn Footrakul insisted the incident is being investigated without bias against any company.
"My office and I have no interests or connection with Singha," Samarn said. "Chang also knows that I don't gain anything from the other side. But both sides often think that I am leaning in favor of a certain side. I insist that we work to protect the people."
Samarn previously told the press that Piti filed a complaint to the board, but today he clarified that the businessman was merely a "witness who raised the issue."
He said the outcome would be up to the legal system.
"The person who will really make the decision is the court," Samarn said. "They will weigh whether this action amounts to promoting alcoholic beverage."
Piti is described in the media as an heir to Boon Rawd Brewery, which is owned by his family, the Bhirombhakdis. Boon Rawd and ThaiBev are the two biggest competitors in Thailand's growing beverage business, expected to bring in 137 billion baht this year.
In early October, Piti had a heated exchange on social media with Pakorn Lam, one of the celebrities who posted photos of Chang Classic, in which he accused his rival company of using unethical tactics to promote the brand.
"Getting celebrities, net idols, pretties and famous persons to post photographs on FB [Facebook] or IG [Instagram] to boost sales and brand awareness is not right," Piti wrote Oct. 7 on Facebook.
He took the high ground in his comments.
"Entrepreneurs must have ethics, and celebrities must not fall victim to this scheme. I can say this because I don't do this kind of thing, and I criticize any of my team members who thinks of doing it."
Police announced an investigation into Chang campaign three days later.
The celebrities in question have insisted to the press they did not receive money from Chang for showing off its beer on their Instagram accounts.
Thailand has tough laws that restrict sales and advertising of alcoholic beverage – restaurants are not even allowed to display photos of alcohol on their menus, for example – though these restrictions are selectively enforced, and drinking is widespread in the country.
A fresh alcohol regulation also came into force today. The new law, formally called the "Announcement by Alcohol Control Board Concerning Guidelines, Methods and Conditions About Labels of Alcoholic Beverage," tightens legal limits of acceptable wording that can appear on alcohol labels in Thailand.
Among banned language are promises of positive consequences from drinking consumption, such as "success in social or sexual life."
The regulation also bans labels that contribute to "degradation of the national culture" or "division or loss of unity among the people."
Related stories:
Anyone Posting Booze Pics Will be Prosecuted, Anti-Booze Official Says