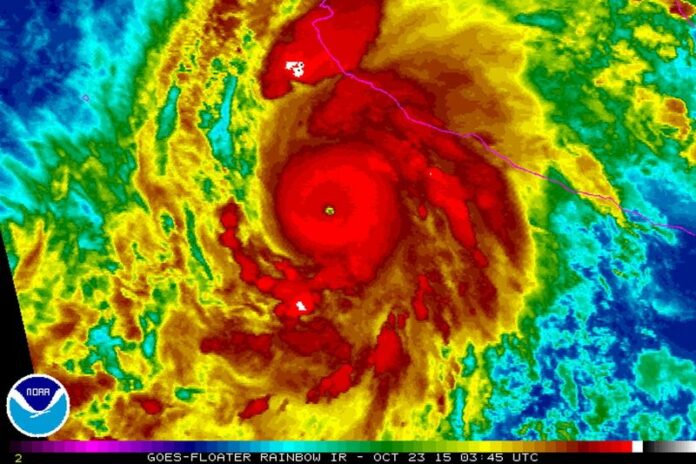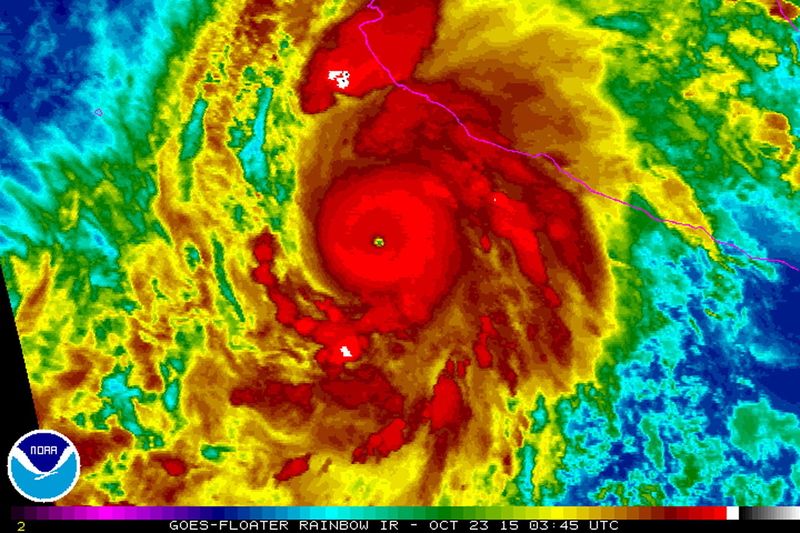 MEXICO CITY — Hurricane Patricia, the strongest storm ever recorded in the Americas, made landfall on the Pacific coast of Mexico's Jalisco state late Friday, authorities said.
"Hurricane Patricia is already on the Mexican coast. Do not go out," President Enrique Pena Nieto warned via Twitter. "Protect yourselves and follow the instructions of Civil Protection. I am looking out for you."
Patricia is a category 5 storm, the strongest on the Saffir-Simpson scale of hurricane intensity, as it reached land with sustained winds of 270 kilometres per hour, the Miami-based US National Hurricane Centre said.
"Extremely dangerous hurricane Patricia moving father inland over south-western Mexico," the centre said in its 0000 GMT report. "Patricia is expected to move quickly north-northeastward across western and northern Mexico through Saturday."
Strong winds and heavy rain were particularly affecting the western states of Jalisco, Colima and Nayarit.
It was moving north at a speed of 24 kilometers per hour, the centre said.
Residents of Puerto Vallarta, Mexico, prepare Friday for the imminent arrival of Hurricane Patricia. Photo: EPA / Ulises Ruiz Basurto
Strong winds had uprooted trees and signs in some areas, and there were high waves as well as heavy rain. Thousands of people had been evacuated ahead of landfall.
"The country is facing a large-scale threat," Mexico's president said on Twitter.
"Patricia is forecast to rapidly weaken over the mountains of Mexico and dissipate on Saturday," the hurricane centre said.
About 2,500 soldiers and 400 federal police officers were deployed to assist the population in affected areas, and civil defence coordinator Luis Felipe Puente warned people to secure any objects that might "turn into projectiles."
Oil company Petroleos Mexicanos suspended the supply of petrol, and banks and schools were closed, while police and civil defence staff urged residents remaining in high-risk areas to leave.
Hotels in Puerto Vallarta and other resort areas boarded up their windows, gathered materials from the beaches and prepared their convention halls to serve as emergency shelters.
"We have enough supplies for the few guests who do not want to leave," Mily Machuca, a receptionist at the Velas Vallarta hotel, said by telephone. "The rest are leaving the town by land because the airport is closed, or they are heading to shelters."
Fishing crews were told to remain in harbour, and local residents worked to board up the windows of homes and businesses.
The coast in Jalisco and neighbouring Colima state is popular with tourists and retired people, including many from the United States and Canada, but October is low season for tourism.
"Our thoughts are with the Mexican people as they brace for Hurricane Patricia. USAID (Agency for International Development) disaster experts are on the ground and ready to help," US President Barack Obama wrote on Twitter.
People in areas at risk had been asked to move to higher ground or go to Guadalajara, the region's largest city.
"No hurricane of this magnitude has ever made impact on the Mexican Pacific," Pena Nieto said on Twitter.
A hurricane warning remained in effect from San Blas to Punta San Telmo. The Mexican government declared a state of emergency in 56 coastal localities.
Story: DPA