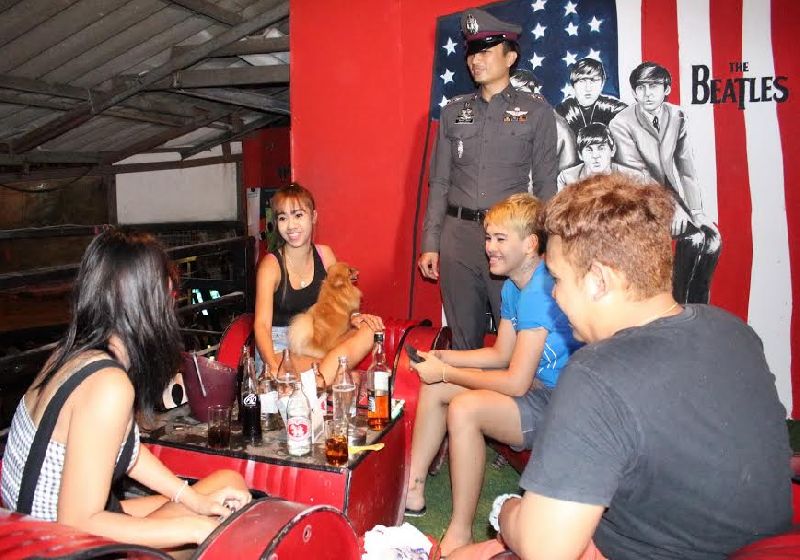 BANGKOK — There was little noticeably different Friday in Bangkok after a ban on alcohol sales in the "vicinity" of schools and other vaguely defined areas was reauthorized.
About three months after a vaguely worded ban on alcohol sales was shelved for study, the little-changed order published Thursday – and in effect today – again did not give a distance to the prohibition, leaving authorities to enforce the law at their own discretion.
"No person shall sell alcoholic beverage in areas or places near educational institutes or dormitories that are close to educational institutes," declared the order signed Oct. 12 by Prime Minister Prayuth Chan-ocha.
---
Booze Ban to be Arbitrarily Enforced During 6-month 'Study'
---
Instead of a law which clearly identifies where alcohol can be sold or not sold, Thursday's order excluded previous references to a 300-meter distance. No definition was given to "educational institutes" either, though under education laws the term includes all levels of education, from primary schools to universities.
An image of the announcement issued Thursday by the Office of Prime Minister
Government spokesman Maj. Gen. Sansern Kaewkamnerd told reporters this morning the ban includes vicinities:
Easily accessible by children, youths and students, when considering the proximity of educational institutes

Inappropriate for children, youth and students

Where children, youth and students are known to participate in illegal activities

That would likely cause disturbance to children, youth and students in the educational institutes
The spokesman added that Prayuth expects security officers to strictly enforce the law but not so zealously that honest businesses are affected.
"Although officials must strictly follow the laws, they cannot bully people, or cause trouble to business operators," Sansern said.
The sudden return of the ban is likely to raise the same objections it did before being shelved for "study," as its language is little changed.
A similar ban – the second of two – was enacted July 23. After considerable controversy over its reach – and little enforcement – a deputy prime minister announced Aug. 4 a committee would take six months to define "vicinity." It remained legally in effect, and the head of the alcohol control board said it would left to authorities to arbitrarily enforce it.
The ban, then as now, omitted the more specific language first signed by Prayuth on July 20.
That earliest incarnation of the ban, since revoked, prohibited sales "within 300 meters of the fence" of universities and colleges, public and private. It also granted exemptions for hotels, established government "entertainment zones," and wholesale factories and distributors.
Although uniform enforcement of the vague law now in effect is likely impossible, a clearly defined one could have proved simply unenforceable.
When the 300-meter ban was announced in July, it didn't take long to realize it would have effectively introduced dry zones in large swathes of the nation. In Bangkok, it would have banned sales in many profitable nightlife areas, including the backpacker haven of Khaosan Road, Soi Cowboy red-light district and top shopping malls – just to name a few – all of which sit near schools.
That's when the intention to study and better define the law came, following outcry and incredulous comments on social media. Government officials pledged to amend the order and re-introduce it in six months' time, leading to some speculation it would die a quiet death.
"In the meantime, security officers will have to exercise their judgement, based on appropriateness of the situation," said Samarn Footrakul, head of Alcohol Control Board.
It's unclear why the law suddenly resurfaced this week, halfway through the proposed period of study, but a morally conservative campaign against alcohol has picked up steam in recent months, with Samarn in the news daily for his anti-alcohol crusading.
Now that the modified version is re-enacted, with even more confusing language than the original, Samarn again said security forces should arbitrarily enforce the ban based on their own interpretation of the law.
"Because each educational institution has a different context and environment, we want law enforcement officials to be flexible in their judgment," Samarn said. "Each province can determine on their own how much of a distance is appropriate."
Battling the Bottle
In recent months, a series of increasingly tough measures aimed to restrict the sale and availability of alcohol have been introduced.
Last week, Samarn threatened prosecution of members of the public who post photos of booze to social media. He said it was illegal under the 2008 Alcoholic Beverage Control Act, which bans any action that indirectly "entices" others to consume alcohol.
"If they have no intention to do that, they won't be guilty," Samarn said Oct. 12. "However, people shouldn't post photos of themselves with alcoholic beverages anyway, because it's a sinful product. It's an immoral product. They shouldn't pose with that product, because it's not good for them."
---
Booze Regulator Warns Public on 'Instant Beer'
---
Samarn's office also passed a regulation, which came to effect Monday, that banned alcohol producers from printing certain statements on labels, such as promises of "success in social or sexual life." Other prohibited items include remarks that lead to "degradation of the national culture" or "division or loss of unity among the people."
Consumption of alcohol is considered a sin under Buddhism. However, in practice, restrictions on alcohol sales are selectively enforced, and drinking is commonplace in Thailand.
Despite the raft of rules and regulations and today's reauthorized ban, sales of alcohol appeared to continue as usual in the capital today. Staff at a grocery store on Samsen Road, which sits within meters of three private schools, were selling alcohol regularly when a reporter visited this evening.
Correction: The caption of a photo of police raiding a bar in Chonburi in an earlier version of this story misidentified the day as Friday. It was Thursday.
Related stories:
Booze Regulator Warns Public on 'Instant Beer'
Anyone Posting Booze Pics Will be Prosecuted, Anti-Booze Official Says
Booze Ban to be Arbitrarily Enforced During 6-month 'Study'
2 Bars Closed Down Under Junta's Sweeping Booze Ban
Five Chiang Mai Cops Transferred Over Illegal Bars