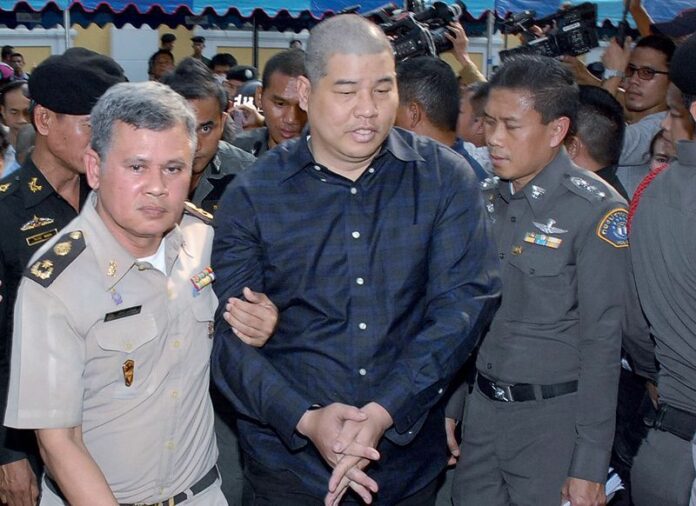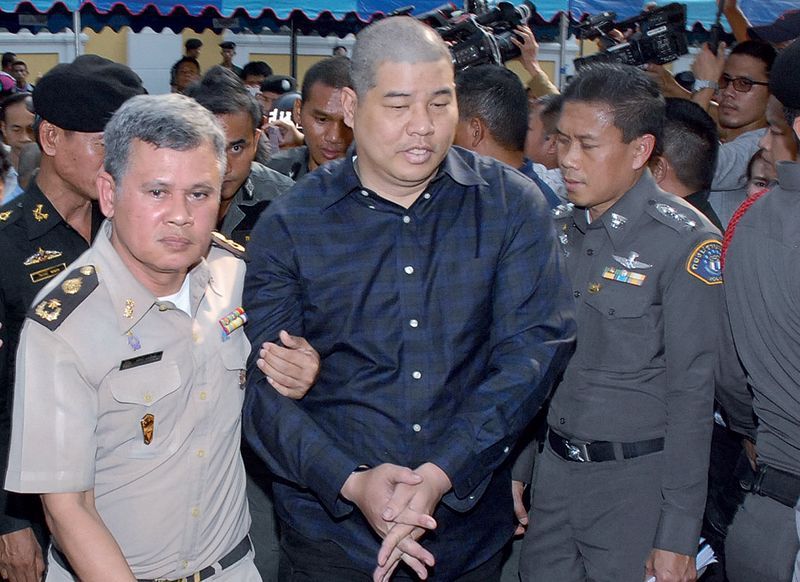 BANGKOK — A former police officer accused of flaunting ties to the Royal Family hanged himself in custody last night, officials said today.
Police Maj. Prakrom Warunprapha died at a hospital after hanging himself in his cell Friday night, officials said, two days after he and two other men were remanded into custody by a martial court on charges of lese majeste, or insulting the monarchy.
"[Prakrom] attempted to commit suicide by tying his inmate clothes which the prison distributed to him in accordance with the regulations to the window bars in his detention room in the temporary prison," the statement released to the media by Department of Corrections said.
Prakrom was being kept at the 11th Infantry Division base, which has been converted into a special prison for lese majeste cases and other offenses said to affect national security.
According to the statement, a soldier found Prakrom at around 10pm on Friday, and he was still alive after hanging himself. Help was called, it continued, and Prakrom was rushed to a hospital where he died.
"A committee has been set up to investigate this matter, in order to find the facts and collect evidence," the statement said.
Prakrom and two other men, Suriyan Sujaritpalawong and Jirawong Watanathewasilp,  were arrested Oct. 16 and accused of falsely claiming ties to the monarchy for personal gain. For their alleged wrongdoing, they have been charged under Section 112 of the Thai Penal Code, a law also known as lese majeste, which outlaws any action or remark that damages the reputation of the Royal Family.
The statement said Suriyan and Jirawong were being held in separate rooms.
Like other legal cases involving lese majeste and the monarchy, the investigation into the three men is shrouded in secrecy. Police began the investigation on Oct. 16 but withheld the suspects' identities until Wednesday, when police presented them in court to ask military judges to remand them in prison while they await trial.
Due to strict lese majeste laws and sensitivity concerning the monarchy, media agencies in Thailand routinely self-censor their coverage of the case.
Justice Minister Gen. Paiboon Khumchaya, confirmed to reporters this afternoon that Prakrom was found dead in his cell room. He ruled the death a suicide.
"I understand that society is suspicious of how the incident could have happened, so I have instructed the director [of Department of Corrections] to send me a fact-finding report about the incident," Paiboon said.
Up until his arrest Friday, Prakrom served as an officer in the Technology Crime Suppression Division and was involved in investigating a number of lese majeste cases.
Correction: An earlier of this story misidentified the day of Prakrom's suicide as Saturday. It was Friday. We regret the error.
Related stories:
'Royal Imposters' Suspect Involved in Past Lese Majeste Crackdowns
Famous Astrologer Among Accused 'Royal Imposters'