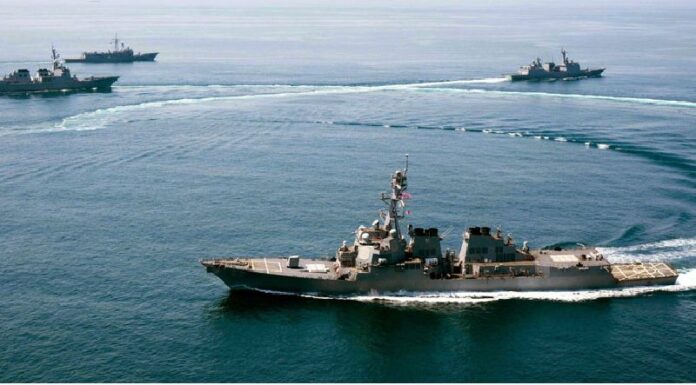 Beijing — Beijing summoned the US ambassador to China to express its "strong discontent" after a US naval destroyer sailed close to islets occupied by China but claimed by the Philippines, state media reported.
Beijing said the USS Lassen illegally entered Chinese territorial waters when it sailed early Tuesday near the disputed Spratly, or Nansha, group of islands.
"China will do whatever necessary to oppose deliberate provocation from any country," Deputy Foreign Minister Zhang Yesui was quoted as saying by the Xinhua news agency late Tuesday, after summoning U.S. Ambassador Max Baucus.
Zhang dismissed US concerns that China's territorial claims in the region were a threat to transport or regional security.
"There has been and will be no obstruction to navigation and overflight freedom in the South China Sea," he said.
Rather, the American move was "a show of force that is very likely to trigger an accident, threatening the rights of navigation and overflight shared by all countries, and harming peace and stability in the South China Sea," he said.
The U.S. vessel passed within 12 nautical miles (22 kilometers) of the Mischief and Subi reefs in the Spratly archipelago on Tuesday.
China deployed the guided-missile destroyer Lanzhou and frigate Taizhou as a warning to the Lassen, the official People's Daily reported.
The U.N. Convention on the Law of the Sea stipulates that a nation's territory normally extends 12 nautical miles out from its coastline.
In Washington, Defense Secretary Ashton Carter said the move would not be their last in the region, where the US has several formal allies.
"We will fly, sail and operate wherever international law permits," and whenever US operational needs require it, he said.
Jin Canrong, professor of international affairs at the People's University in Beijing, said the impact of the sail-by on U.S.-China relations is not clear at this point.
"If it is only a one-time thing, the tension will pass over soon. But if the US navy sails close to the islands regularly, then China might respond by enlarging the scale of island construction and further set up military equipment on the islands," Jin said.
Chinese construction in the Spratlys, including runways and lighthouses, has been criticized by several nations including the United States.
China's foreign ministry confirmed in June that it was building facilities on reclaimed land in the South China for purposes including military defence, scientific research and navigation safety.
Story: DPA