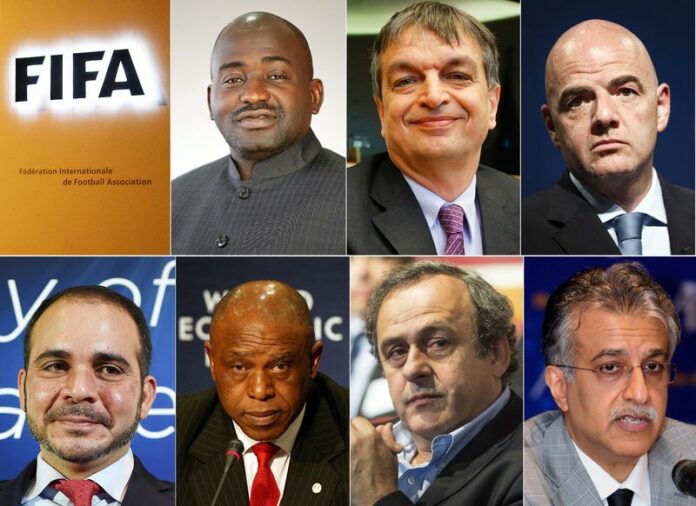 BERLIN — Liberia's Musa Hassan Bility has failed to pass an integrity check, the ruling body FIFA said on Thursday as it dropped him while confirming five other candidates to run for its presidency on Feb. 26.
Prince Ali Bin Al Hussein of Jordan, Asian confederation chief Sheikh Salman Bin Ebrahim Al Khalifa of Bahrain, Frenchmen and fomer FIFA official Jerome Champagne, UEFA secretary general Gianni Infantino of Switzerland and South African Tokyo Sexwale were named official candidates by FIFA's electoral committee.
UEFA president Michel Platini has also submitted a bid and could become a sixth candidate after the end of his 90-day provisional ban, or if FIFA's appeal committee or the Court of Arbitration for Sport overturn the ban imposed by the FIFA ethics committee in connection with a "disloyal payment" he received from the also suspended president Joseph Blatter.
Bility was not admitted "in view of the content of the integrity check report relating to him," FIFA said. It did not go into details because of personality rights but Bility has the right to appeal the decision before CAS.
Another candidate, David Nakhid, was not accepted by FIFA because he provided the backing of a member federation which was already supporting another candidate.
FIFA elects a new president on Feb. 26 in succession of Blatter, who beat Prince Ali on May 29 for the top job but said four days later he would stand down at the extraordinary congress as FIFA is engulfed by various corruption affairs.
Each candidate required the support of five member federations before the integrity check carried out by the ethics committee which ranges from possible fraudulant behaviour and match manipulations to human rights violations.
But the Bahrain Institute for Rights and Democracy slammed FIFA for allowing Sheikh Salman into the presidential race, saying he was involved in the crackdown of anti-goverment protests in 2011 as member of the ruling family and then nation's football supremo, and that FIFA seemingly ignored their evidance.
"Today's decision is a black mark on world football," said Sayed Ahmed Alwadaei, the institute director of advocacy. "It seems there is no end to the corruption in FIFA and they have just added (a) human rights abuser to their profile."
The BBC quoted Bility as saying he was weighing his options with his lawyers after seemingly being rejected over a six-month ban in 2013 for using confidential documents from African football's governing body CAS in a legal challenge against Issa Hayatou.
"I reject this and think it's unfortunate. My decision to fight CAF at the time was a genuine attempt to change African football and prevent rules from being arbitrarily violated," he said.
Story: DPA / John Bagratuni