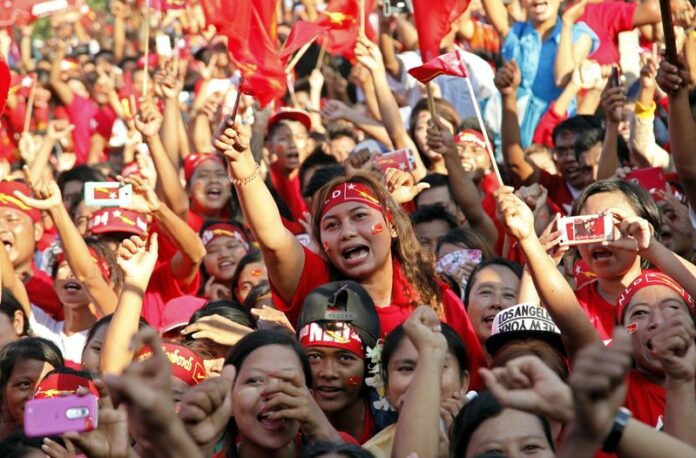 YANGON — Myanmar's National League for Democracy, or NLD, are just two seats short of an overall majority, according to latest poll results released late Thursday.
According to the Union Election Commission, the NLD needs two more seats to reach the 329 that ensures its preferred nominee becomes president in a parliamentary vote.
Earlier Thursday, the party passed a threshold in vote counting which gave it enough seats to nominate two presidential candidates – a third candidate will be nominated by the country's military.
With 110 seats in the upper house, out of 133 results, the NLD received enough votes to nominate the upper house's presidential candidate.
The party had already secured enough seats in the lower house on Wednesday to ensure its choice for that assembly's presidential nominee, with 217 out of 274 confirmed seats.
U.S. President Barack Obama called NLD leader Aung San Suu Kyi to congratulate her on the campaign and her party's success and also called incumbent President Thein Sein to congratulate him for holding a successful and peaceful election last weekend, the White House said.
In both calls, Obama "discussed the importance for all parties to respect the official results once announced and to work together in the spirit of unity to form an inclusive, representative government that reflects the will of the people," spokesman Josh Earnest said. "The president noted that the election and formation of a new government could be an important step forward in Burma's democratic transition and the effort to forge a more peaceful and prosperous future."
Thein Sein on Wednesday accepted the request for a meeting with NLD leader and Nobel laureate Suu Kyi, to also include military chief Min Aung Hlaing and parliament Speaker Shwe Mann, although a date for the meeting was not fixed.
The country's first openly contested elections in 25 years, held Sunday, looked set to result in a landslide victory for Suu Kyi's party, although the military will retain an automatic 25 percent of the seats in each house, as stipulated in the constitution.
Story: DPA