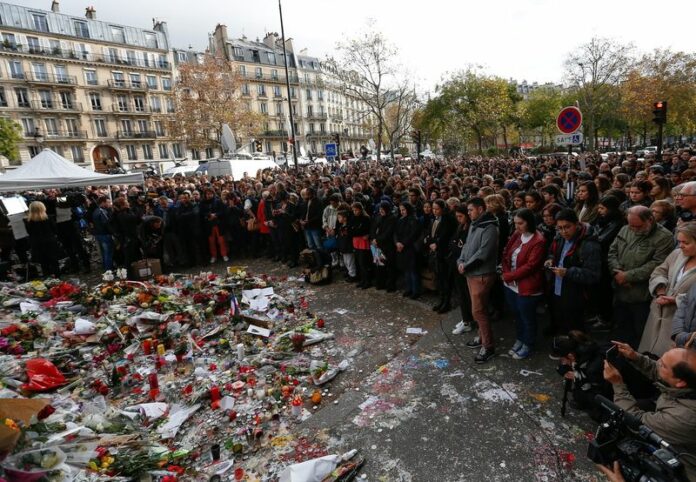 PARIS — The terrorist attacks in Paris were "organized, thought out, planned out of Syria," French Prime Minister Manuel Valls said Monday, as prosecutors said that one of the suicide bombers could possibly have come from the war-torn Middle Eastern country.
The Islamic State extremist group, which controls territory in Syria and Iraq, has claimed responsibility for the Paris killings. France on Sunday launched airstrikes against the militants' stronghold of al-Raqqa in Syria.
The French Defense Ministry said that Sunday's airstrikes involved 10 French planes that dropped 20 bombs, destroying a commando position where munitions were stored and a training camp for terrorists.
Abdelhamid Abaaoud, a Belgian man who has fought in Syria and was thought to be the mastermind of a foiled plot to kill police officers in Belgium in January, is also suspected of being behind the Paris attacks, the Belgian newspapers De Standaard and Het Nieuwsblad reported.
The 28-year-old was notoriously recorded in a 2014 video driving a car dragging mutilated bodies. He has long been on the run.
Two of the seven dead attackers in Paris – named by the Belgian media as Bilal Hadfi and Brahim Abdeslam – are suspected of having known Abaaoud, the newspapers reported.
Belgium and France are hunting for Abdeslam's brother, 26-year-old Salah Abdeslam. The Frenchman born in Brussels is thought to possibly also have been an attacker.
Salah Abdeslam was stopped by police driving through northern France on Saturday, but not detained, the newspaper Le Monde reported. French prosecutor Francois Molins had previously said, without naming him, that the person who had rented a car used by the Paris attackers had been controlled on Saturday morning near the Belgian border.
A third Abdeslam brother – identified by Belgian media as Mohamed Abdeslam – is reported to have been detained by police in the Brussels neighbourhood of Molenbeek, where Brahim Abdeslam is also said to have lived.
A police operation was underway in Molenbeek on Monday morning. The broadcaster RTBF reported that special police forces were using loudspeakers to tell occupants of a building to open their curtains and called on a person in the building to come out.
In France, meanwhile, police have carried out 168 raids overnight, with 23 people detained and 31 weapons recovered – including a rocket launcher – Interior Minister Bernard Cazeneuve said. More than 100 people have been placed under house arrest, he added.
But the France Info radio station reported that only one of the searches was directly linked to Friday's attacks in Paris, which left at least 132 people dead and some 350 injured.
France, countries across Europe and participants at the G20 summit in Turkey will fall silent at 1100 GMT in memory of the victims.
"This is only the beginning. These actions will continue," Cazeneuve said of the police action. "Those who attack the republic will be caught and we will be relentless."
Valls warned that European countries face an ongoing risk of terrorist attacks.
"We know that operations were being prepared and are still being prepared, not only against France, but against other European countries," he said.
"This generation will have to live a long time with this terrorist threat. We must live, and live fully, but under this threat," he added.
In the Paris attacks, authorities believe that three coordinated teams of terrorists armed with Kalashnikov rifles and explosive vests targeted the Bataclan concert hall, the Stade de France national sports stadium, and several restaurants and bars.
Five of the seven dead attackers have now been identified, Molins said in a statement issued on Monday.
Fingerprints from one of the suicide bombers at the Bataclan concert hall matched those taken in Greece in October from a man who was using a Syrian passport with the name of Ahmad Al Mohammad, 25, the statement said.
It also noted, however, that the authenticity of the passport still had to be verified.
Another Bataclan suicide bomber has been identified as the Paris-born Frenchman Samy Amimour, 28. He was known to law enforcement for links to terrorists and was the subject of an international arrest warrant issued in 2013, the statement said.
It adds that three of his relatives are in custody for questioning.
Story: DPA