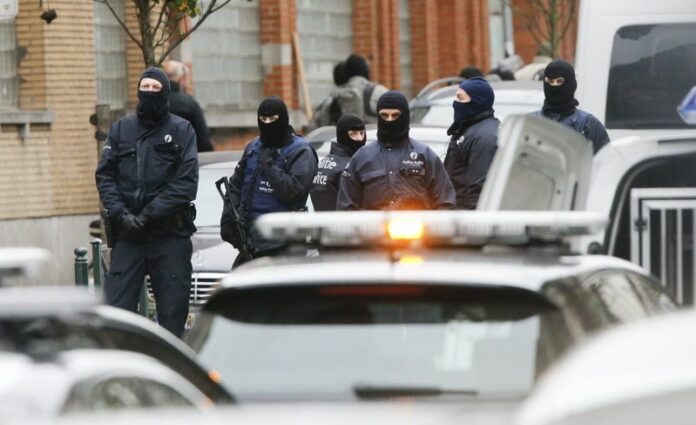 PARIS — French President Francois Hollande pledged Monday to "destroy" the Islamic State through stepped up military action in Syria, tougher anti-terrorism laws at home and in the European Union, and greater international mobilization.
Hollande addressed both houses of parliament in a special session at the former royal palace of Versailles to spell out the response to Friday's attacks, which killed at least 129 people in Paris. The Islamic State terrorist group has claimed responsibility.
"Terrorism will not destroy the French Republic, for it is going to be destroyed by the Republic," Hollande told lawmakers. The objective, he added, "should not be to contain, but to destroy" the Islamic State.
Air raids against Islamic State strongholds in Syria will "intensify," and French strike capacity will "triple" as of Thursday, when the Charles de Gaulle aircraft carrier will be moved to the eastern Mediterranean, the president said.
According to Hollande, the attacks in Paris were "decided, planned in Syria" and "organized in Belgium," with the aim of spreading fear and weakening France's resolve to "fight terrorism in the Middle East."
Hollande called for greater international unity, saying he would travel to Washington and Moscow to meet US and Russian counterparts Barack Obama and Vladimir Putin and urging a UN Security Council resolution against the Islamic State.
Turning to EU partners, the French president invoked a solidarity clause for bloc members under military attack, called for joint action on the repatriation of irregular migrants and weapon smuggling, and the approval by December of a common record of air passengers' data.
On the home front, Hollande invited parliament to extend the state of emergency for three months, promised tougher penalties and new laws for terrorism-related crimes, and more resources for national security.
He promised to hire 5,000 extra policemen, 1,000 extra border guards, boost the ranks of the justice ministry by 2,500 units and scrap planned cuts for the military.
He said he was ready to defy EU deficit rules over the issue, and said the constitution might be revised to fit with national security requirements.
So far, French police have identified five out of the seven suspected terrorists who died carrying out Friday's attacks, including one presumed to have entered the EU via Greece, posing as a Syrian refugee.
In Brussels, police carried out a large-scale raid in the Muslim-majority Molenbeek neighbourhood with the aim of capturing an eighth suspected attacker, 26-year-old Frenchman Salah Abdeslam.
The operation was unsuccessful in capturing him, but Belgian prosecutors said two of the seven people who had been taken in for questioning were placed under arrest on charges of playing a role in a terrorist attack and participating in the activities of a terrorist group.
According to the Belga news agency, the unnamed pair were travelling with Abdeslam in a getaway car when they were stopped and let go early Saturday at a police checkpoint in northern France, near the Belgium border.
The other five people detained in Belgium were released on Monday. They included one of Abdeslam's brothers, Mohamed. His lawyer told Belga that he had an "indisputable" alibi.
A third Abdeslam brother, 31-year-old Brahim, was identified as one of the suicide bombers behind Friday's attacks. He was friends with a well-known Belgian foreign fighter who could also be implicated, the newspaper De Standaard reported Monday.
Meanwhile, Italian police said they were no longer searching for 32-year-old Frenchman Baptiste Burgy, another alleged terrorist who was reported to have crossed the Ventimiglia border point on Sunday driving a Seat Ibiza car.
"There was an alert but it has passed," the acting head of police in the north-western city of Turin, Sergio Molino, told the ANSA news agency. "We have no evidence of the passage, or of the presence of that vehicle on Italian soil," he added.
In France, police carried out 168 raids overnight into Monday, with 23 people detained and 31 weapons recovered – including a rocket launcher – Interior Minister Bernard Cazeneuve said.
French Prime Minister Manuel Valls warned Monday that European countries face an ongoing risk of terrorist attacks.
"This generation will have to live a long time with this terrorist threat. We must live, and live fully, but under this threat," he added.
A meeting between Hollande and US Secretary of State John Kerry will take place Tuesday at the US embassy in Paris, according to news reports. After arriving in Paris Monday night, Kerry said ultimately, Islamic State and all who share their "despicable ideology" would be defeated.
Story: DPA