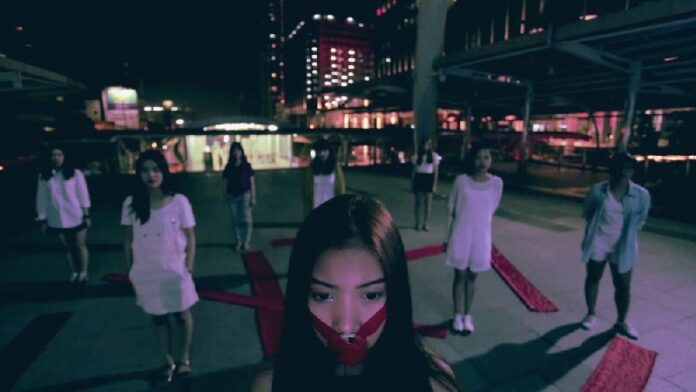 By Lisnaree Vichitsorasatra
Staff Reporter
BANGKOK — A filmmaker, underground music venue owner and photographer will bring dozens of films they describe as "bizarre and confronting" to the Bangkok Underground Cinema this weekend at Museum Siam.
Bored of safe subjects that lack provocation or punch, organizers chose 43 films on matters from mental illness to science fiction to screen as part of the Noise Market music and arts festival unfolding over two days on the museum's grounds.
"They shouldn't bore us," said photographer Tada Hengsapkul of the criteria used to select the films. "There's freedom of speech and expression [represented]," he added.
There's no censorship of cigarettes, alcohol, nudity – or most importantly – thoughts.
Tada said Thai cinema has stopped talking about things that matter, a situation growing worse under the censorship threatening filmmakers' autonomy.
"Displaced" by Cas Van Der Pas and Frank Scott Krueger is a "bipolar experimental narrative" looking at displaced people in rural and urban Colombia. It examines the mentally ill without prescribing a remedy, according to festival organizer Dhyan Ho, owner the Sathon district art-bar, Jam. In two words, "Pregnant Man" spells out the aims of French filmmaker Charlie Mars.
'Pregnant Man'
Things get appropriately elemental Japanese experimental film "Haruli," and sound comes dangerously alive to devour an artist in "Huu" by Theerapat Wongpaisarnkit. Then there is "How to Transform into Na Neck" by Takuro Kotaka, in which he runs with the joke of actually taking on the identity of Thai comedian Ketsepsawat "Na Neck" Palakawong Na Ayutthaya.
About half of the films selected from hundreds of submissions came from local filmmakers, with the rest from 22 other countries including Myanmar, Australia, Taiwan, Indonesia, Slovakia, Japan, Colombia, Switzerland, France, Russia, Korea, Singapore and Brazil.
The fest's organizers said they wanted to help new filmmakers including students and rookies get their work shown on a screen for the public.
"We are interested in the work of younger generations," said Tada Hengsapkul, a photographer and filmmaker. Tada said established (read: old) filmmakers tend to lose their voice or inspiration.
After pulling off this year's first event, Tada said they hope to expand it into a larger fest with even more provocative films.
Like the rest of Noise Market, it's all free. Learn more about the films and check out the schedule online.