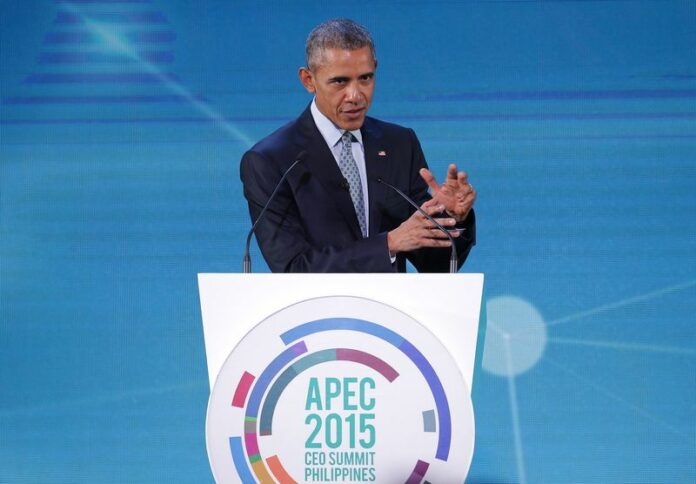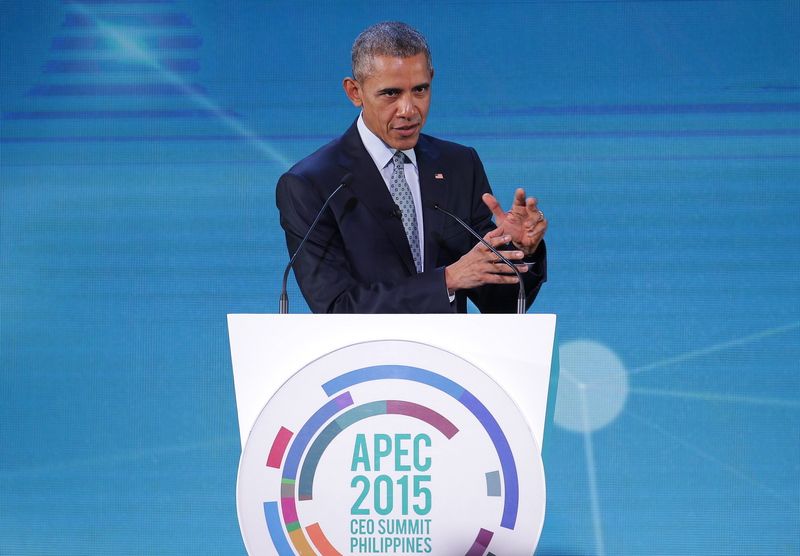 MANILA — The United States reiterated its call for an end to reclamation activities and "militarization" in the disputed South China Sea Wednesday, as the territorial row with Beijing clouded an annual trade summit in the Philippines.
Speaking after a meeting with Philippine President Benigno Aquino, U.S. President Obama said the two leaders had discussed the "impact of China's reclamation and construction activities on regional stability."
The Philippines is one of several countries which contests China's claims to almost the entire sea, which is a major shipping route.
"We agreed on the need for bold steps to lower tensions including pledging to halt further reclamation, new construction and militarization of disputed areas in the South China Sea," he said.
Despite China's wishes to keep the focus on the economy during the Asia-Pacific Economic Cooperation (APEC) summit, Obama set the tone by announcing extra military aid for South-East Asian nations on Tuesday, and by addressing freedom of navigation in the disputed waters.
Chinese President Xi Jinping, also attending the summit, said at a CEO forum that APEC should be a "platform to create synergy" among the member economies.
"We must focus on development and spare no effort to foster an environment of peace conducive to development and never allow anything to disrupt the Asia-Pacific development process," he said without directly mentioning the South China Sea disputes.
The terrorist attacks in Paris have also loomed large at the event, with Obama and other leaders vowing to continue the fight against extremist violence.
"Terrorism spreading is a truly global challenge, and a challenge to the whole civilized world and this challenge requires joint answer, coordinated, truly concerted actions," Russian Prime Minister Dmitry Medvedev said in the same forum.
Security was beefed up for the summit after Islamist militants beheaded a 39-year-old Malaysian hostage on Jolo Island, 1,000 kilometres south of Manila, on Tuesday. The victim, Bernard Ghen Ted Fen, had been in captiviy since May.
Armoured tanks, heavily armed security forces and thousands of police officers and soldiers guarded roads leading to the main summit venue.
The military has ordered a news blackout on the beheading "in the view of the negative impact" it would have amid the Philippines' hosting of the APEC leaders' summit, a source said.
The APEC members are Australia, Brunei, Canada, Chile, China, Hong Kong, Indonesia, Japan, South Korea, Malaysia, Mexico, New Zealand, Papua New Guinea, Peru, the Philippines, Russia, Singapore, Chinese Taipei, Thailand, the United States and Vietnam.
Story: DPA / Girlie Linao