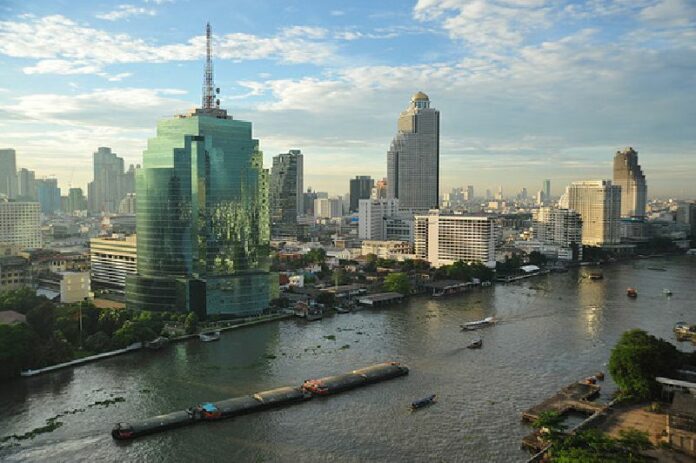 BANGKOK — Those opposed to spending 14 billion baht to line the Chao Phraya river with concrete promenades will hold a discussion about the river's future next week, as the national Architect Council says the controversial plan is fundamentally flawed.
On Nov. 25, the Friends of the River will celebrate Loy Krathong by hosting a discussion of the river and its affected communities from 3:30pm to 5:30pm in Santichai Prakan Public Park.
"You are invited to float a krathong representing our 14 billion-baht to oppose the Chao Phraya Promenade, which would lead to the inefficient use of the country's money," the group wrote online.
On Tuesday, architects from the kingdom's top advisory body said the 14-billion baht project should be amended to focus on the use of public space along the river rather than being focused solely on the concrete  promenade.
After all but one bidder dropped out earlier this month and the 14-billion baht project was placed on hold, they criticized the project's one-size-fits-all approach and lack of community participation, factors they said made it unattractive to bidders.
"We noticed that with a process like this, the work can never turn out great," said Michael Paripol Tangtrongchit, the president of the Council of Deans of Architect Schools of Thailand. Michael said the fault was with the original project outline, called the terms of reference, which must be revised.
---
Radical Makeover of Chao Phraya River Delayed
---
The military government approved 14 billion-baht budget back in May to line both sides of the Chao Phraya with concrete walkways for seven kilometers. The effort was harshly criticized as being rushed through without study or consultation.
On Nov. 1 it was announced the whole thing was on hold because only one consultant had bid on a 120-million baht contract to complete a feasibility study. By law, there must be a competitive bid.
The architects alliance suggests the government prepare new project documents which separate the project planning from the environmental impact report.
As for the design, they propose involving more stakeholders and community members, and getting design input from relevant architectural planners, as the old plan was weighted with engineering specialists.
As the kingdom's top authorities on design, the council noted that neither the Interior Ministry nor city hall sought their input.
Related stories:
Radical Makeover of Chao Phraya River Delayed