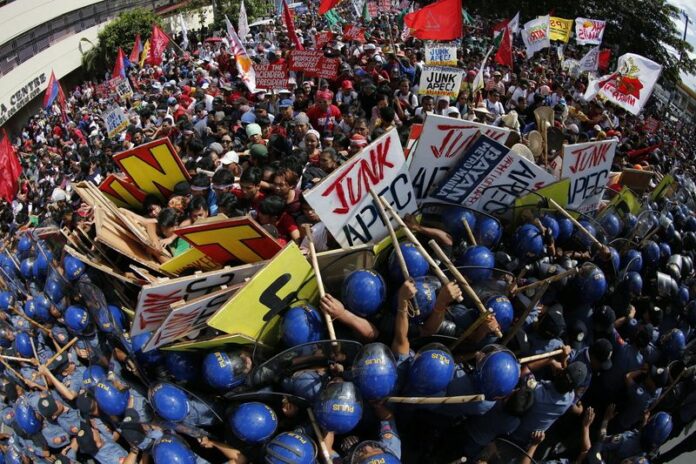 MANILA — Asia-Pacific leaders on Thursday stressed the "urgent need" for stepped-up efforts against terrorism, and vowed not to allow the violence to derail economic progress in the region.
At the end of a two-day annual summit of the Asia-Pacific Economic Cooperation, or APEC, forum in Manila, the leaders condemned recent attacks in Paris, Beirut and against a Russian aircraft, all claimed by the Islamic State group.
"We stress the urgent need for increased international cooperation and solidarity in the fight against terrorism," the leaders said in a joint statement.
The attacks in Paris, just days before the APEC meetings opened in Manila, prompted tightened security and overshadowed the discussions, which had been scheduled to focus on ensuring sustainable growth and reducing inequality.
The statement did not address territorial disputes between China and smaller nations in the region over the South China Sea, another issue that had clouded the APEC summit.
Some leaders, however, expressed concerns about freedom of navigation and security in the seas on the sidelines of the meeting.
US President Barack Obama implicitly raised the issue when he announced material aid for the Philippines navy and other South-East Asian allies when he arrived Tuesday.
Japanese Prime Minister Abe also stressed the need to respect the rule of law and refrain from force in resolving the disputes, his spokesman Yasuhisa Kawamura said Thursday.
As leaders gathered for their meeting Thursday, some 1,000 protesters carrying placards reading "Save the Planet. Junk APEC" and "Defend Sovereignty. Junk APEC" clashed with police, who used water cannons and batons to stop them from marching to the summit venue.
Demonstrators hit police officers with their placards and wooden sticks but failed to get through the security barricade about 1.2 kilometers from the convention centre venue.
Authorities earlier warned that anyone protesting without a permit would be arrested.
Story: DPA / Girlie Linao