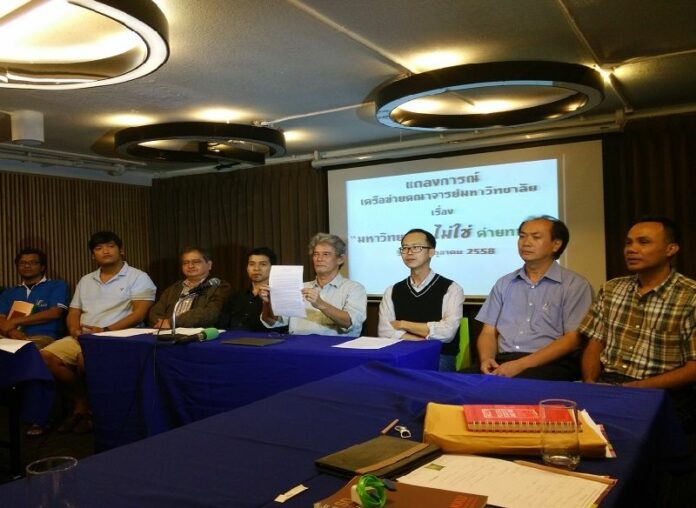 BANGKOK — Police have charged eight academics with violating the junta's ban on "inciting unrest" for a recent conference at which they told the regime to stop clamping down on free expression in universities.
The eight were summoned to report Tuesday to the Chang Puak Police Station in Chiang Mai to formally hear their charges, an officer at the station told Khaosod English. He said the charges stemmed from a news conference held by the academics in Chiang Mai last month.
"The suspects are all of the eight lecturers at the event," Police Col. Prayoon Kardthip said by telephone. He added that the complaint was forwarded to the police by a military officer from the junta's security wing.
At the Oct. 31 news conference in Chiang Mai province, the eight lecturers from seven universities issued a joint statement called "Universities Are Not Barracks," in which they criticized junta chairman Prayuth Chan-ocha's remark that he believed universities are being used to breed discontent against his regime.
The statement urged the junta to respect freedom of expression in universities and in larger society.
"Forcing individuals to act in the same way by use of power – whether through gun barrels or unfair laws – will only bring a peace of forced silence for a short period of time," it said.
Since staging the coup d'etat against the elected government in May 2014, the ruling junta has imposed a ban on any form of protest, political activity and public criticism of its regime. Violators of the ban face trial by military tribunal and possible jail term if convicted.
Attachak Sattayanurak, the history lecturer at Chiang Mai University who organized the event, confirmed to Khaosod English that he had been summoned.
Attachak said he plans to meet with police earlier than Tuesday because he has other appointments that day. He also expressed surprise that he now faces criminal proceedings for calling for free expression.
"I'm surprised there's still intimidation by legal means. I and other lecturers have talked to senior military officers many times already. We told them we have to do our duties as academics," Attachak said. "We told them, just let these academics talk – no one listens to them anyway. Now that they forbid us from talking, more people will listen."
It appears police have yet to send summons to the seven other academics who attended the Oct. 31 news conference. Somchai Preechasilpakul, one of the group, said he hasn't received anything.
"No one contacted me. No warrant was sent to me," said Somchai, who also teaches at Chiang Mai University.
Nevertheless, Somchai said he called a police officer in Chiang Mai after he heard about Attachak being summoned, and the officer he spoke with confirmed that he's one of the suspects.
Nearly 80 academic seminars have been blocked or censored by the ruling military junta since the 2014 coup, according to a report by the Thai Lawyers for Human Rights published in June. The junta, which is formally known as the National Council for Peace and Order, said such measures are necessary to avoid misunderstanding and maintain stability in the country.
Word of the charges came the same day Gen. Prayuth, the junta chairman, reportedly assured U.S. President Barack Obama that reports about human rights abuses in Thailand were inaccurate and malicious.
"I insisted to him that I'm already trying to take care of [human rights] issues," Gen. Prayuth said. "But they were really [the result of] news presented by people with bad intentions. Sometimes, these reports were presented without any facts, so it led to misunderstanding."
To reach us about this article or another matter, please contact us by e-mail at: [email protected].
Follow Khaosod English on
and
Twitter
for news, politics and more from Thailand.