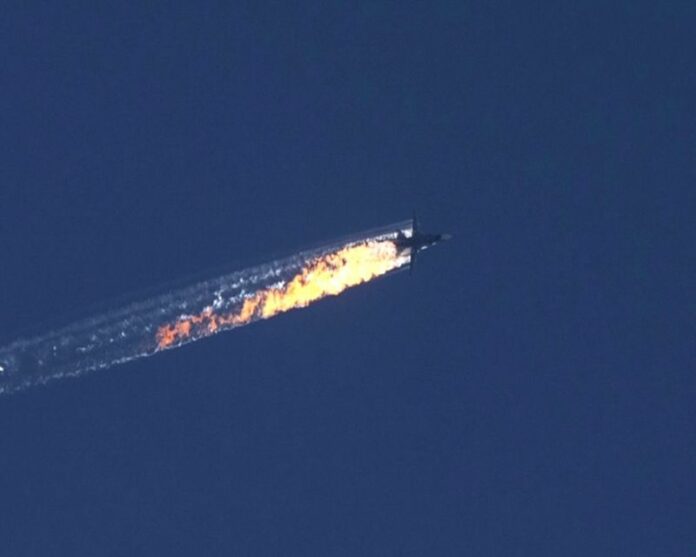 BEIRUT/BRUSSELS — World leaders called for calm Tuesday after the Turkish Air Force shot down a Russian fighter jet near the Syrian border, as Russian President Vladimir Putin vowed "serious consequences."
U.S. President Barack Obama warned against escalation, saying it is important for Turkey and Russia talk to determine what happened.
French President Francois Hollande said after meeting with Obama that escalation "would be extremely damaging."
After alliance members held an emergency meeting in Brussels, NATO Secretary General Jens Stoltenberg said: "We have to avoid that situations, incidents, accidents spiral out of control."
U.N. Secretary General Ban Ki-moon said he was "seriously concerned" about the incident and urged all parties engaged in military activities in Syria "to maximize operational measures to avoid unintended consequences," a spokesman said in New York.
Turkey, which is a NATO member, said it acted after the plane entered Turkish airspace – an accusation Stoltenberg said was reinforced by NATO intelligence.
A senior defense official in Moscow said one of the two pilots was killed by groundfire as he parachuted after ejecting from the stricken Sukhoi Su-24 bomber. A Syrian rebel group claimed responsibility for the killing.
The fate of the second pilot was unknown.
Russia was conducting a search-and-rescue operation over the crash area, which Russian General Staff Sergei Rudskoy said was inside Syria, some 4 kilometers from the Turkish border.
A Russian marine leading the search mission was killed when the chopper he was in came under rebel mortar fire, Rudskoy said, according to the official TASS news agency.
Ankara said the Russian bomber ignored repeated warnings over a five-minute period. Turkish pilots gave 10 verbal warnings, according to U.S. defense spokesman Steve Warren, who said that U.S. forces were "able to hear everything that was going on" between the planes.
The Russian Defense Ministry alleged that there were no attempts by Turkish pilots to warn the Russian plane.
Russia, a key backer of Syria's embattled President Bashar al-Assad, maintained that the plane was within Syrian airspace at all times during its mission against "illegal terrorist formations."
Putin accused Turkey of stabbing Russia in the back.
"Today's loss is linked with a stab in our back delivered by terrorism accomplices," Putin said in comments reported by TASS.
The incident "will have serious consequences to Russian-Turkish relations," Putin said, speaking during a meeting in Sochi with Jordanian King Abdullah on the crisis in Syria and efforts against the Islamic State extremist organization.
Putin slammed the Turkish call for Tuesday's NATO meeting, saying the Russian plane posed no threat to Turkey and was involved in action against Islamic State militants.
"Does this mean that they want NATO to serve the Islamic State?" the Russian leader asked.
Russian Foreign Minister Sergei Lavrov cancelled a scheduled Wednesday visit to Turkey, and his ministry warned citizens not to visit Turkey, a major destination for Russian tourists.
A Syrian rebel force operating in the Jabal al-Turkoman area near the Turkish border said its fighters had killed one of the plane's pilots after he ejected and attempted to steer his parachute to government-held territory.
The fighter plane crashed in an area where both moderate rebels backed by Turkey and the Syrian branch of al-Qaeda have reportedly gained ground against government forces in recent days.
Syrian state news agency SANA quoted an unnamed military source describing the incident as "a blatant violation of Syrian sovereignty" that "confirms beyond doubt Turkey's support for terrorism."
Russia says its intervention in Syria is aimed at Islamic State and other extremist groups. However, Islamic State is not present where the plane was shot down.
Turkey had previously warned Russia against incursions into its airspace during the operations that Moscow launched in September in support of al-Assad's overstretched forces.
"It is our international right and national duty" to take measures against whoever violates Turkish airspace, Prime Minister Ahmet Davutoglu said Tuesday in Ankara.
Story: DPA