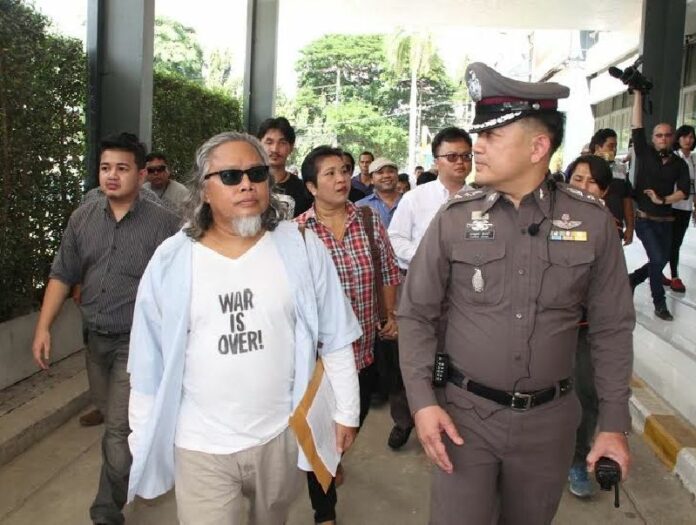 BANGKOK — The military government announced today a second internal review of alleged corruption in a billion-baht, army park project has been launched days after the army said it found no sign of wrongdoing.
Word the Ministry of Defense would appoint the junta chairman's brother to lead a probe into the project came the same day a pro-democracy activist group filed a criminal complaint over the project in a bid to prod police into investigating the construction of Rajabhakti Park in Prachuap Khiri Khan province, which by some accounts was rife with financial irregularities.
Defense Ministry spokesman Maj. Gen. Kongcheep acknowledged skepticism after the army said Friday it found no evidence of corruption in its project.
"It did not find any irregularity, but in general, there was a difference in opinions, as the media has reported," Kongcheep said. "Gen. Pravit Wongsuwan, Minister of Defense, is not idle about this matter. For the sake of transparency, he has assigned Gen. Preecha Chan-ocha, permanent secretary of defense, to set up a committee to investigate the facts."
Gen. Preecha is younger brother of junta chairman and Prime Minister Prayuth Chan-ocha.
Army officials at the opening ceremony of Rajabhakti Park in Prachuap Kiri Khan province on Aug. 19, 2015.
Kongcheep did not say how long the ministry's inquiry wouldl take, but assured reporters that if anyone was implicated in wrongdoing, they would immediately face disciplinary and criminal actions.
Earlier this month, Gen. Udomdej Sitabutr, the former army chief who oversaw the project, confirmed some of the alleged corruption detailed in media reports, such as paying a middleman who took 10 percent "commissions," along with unusually high expenditures and shady transactions in the construction of the park.
Despite Udomdej's admission, the internal army inquiry into the matter ruled out any irregularity.
"There was no corruption. Every procedure is transparent," army chief Teerachai Nakwanich said Friday.
Citizen Complaint
Unconvinced by the army review, members of anti-junta group called Resistant Citizens filed its own criminal complaint to the Crime Suppression Division, demanding an investigation into Rajabhakti Park's alleged graft.
Pansak Srithep, a member of the group, said he and other activists filed the charge today because police had insisted they could not conduct an investigation until someone formally asked them to do so. He also voiced his doubts over the army's ability to probe its own project impartially.
"The army announced that it didn't find any corruption, which is not surprising, because how could there be a corruption in the army when you have the army inspecting itself?" Pansak said.
The activist also called upon other anti-graft agencies such as the National Anti-Corruption Commission and Anti-Money Laundering Office to investigate the Rajabhakti Park project. He said his group may file charges of negligence against those agencies if they continue to ignore the matter.
Constructed by the army as a testament to the monarchy, Rajabhakti Park features seven gigantic statues of seven prominent kings from Thai history.
Udomdej, who oversaw the park's construction from November 2014 to August 2015 before stepping down as army chief, has not spoken to the media since he acknowledged issues in the project earlier this month.
When asked why Udomdej has been silent about the matter, Kongcheep, the Ministry of Defense spokesman said he could not speak on the former army chief's behalf.
He also urged the media to be careful in their reporting about the scandal, lest the coverage diminish the public's "faith" in the royal monument.
"I'd like to ask the media to wait for the investigation results. Don't escalate this matter, because it may cause misunderstanding, and cause people to lose their faith in government agencies and Rajabhakti Park that all of us have jointly built, out of faith and sincerity," Kongcheep said.
Related news:
Army Colonel Accused of Insulting Monarchy as 'Royal Impostor'
Police, Army Disagree Over Which Should Probe Royal Park Graft
Govt Not Responsible for Rajabhakti Park Graft, Minister Says
To reach us about this article or another matter, please contact us by e-mail at: [email protected].
Follow Khaosod English on
and
Twitter
for news, politics and more from Thailand.