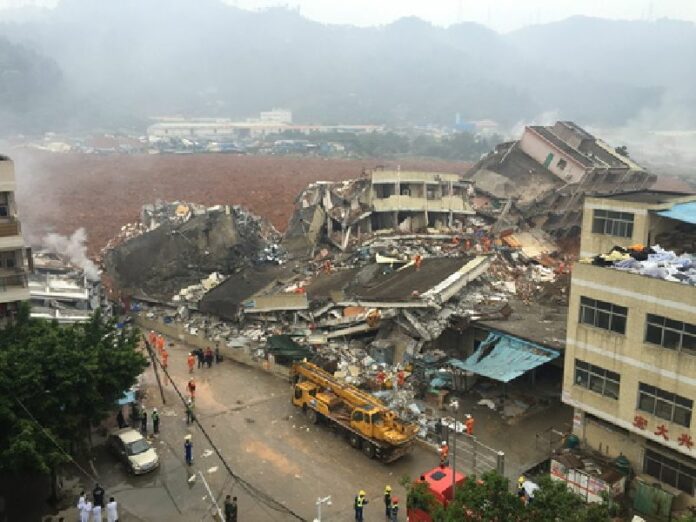 BEIJING — At least 91 people are missing after a massive landslide buries up to 33 buildings under six meters of mud in the southern Chinese city of Shenzhen.
Fifty-nine men and 32 women were unaccounted for this morning after "huge waves" of mud demolished a 60,000-square meter area including an industrial park, state media reported.
Authorities said at least 33 buildings had been buried or destroyed, including factories and workers' dormitories. One building that collapsed was five storeys tall.
Signs of life have been detected among the rubble at three locations, the Xinhua news agency reported.
Seven people have been saved but the efforts of nearly 1,500 rescuers have been hampered by rain and mud, an official at Shenzhen's emergency management office said Sunday night.
"We have to go there on foot," said Ao Zhuoqian of the Shenzhen fire control department.
More than 900 people have been evacuated from Guangming New District in north-western Shenzhen, a major manufacturing hub across the border from Hong Kong.
One resident who lived four kilometers from the site was quoted by Xinhua as saying he heard a loud explosion: "It must have been a big accident because I heard the bang from so far away."
Another witness said the mud hit like "huge waves." He barely escaped the torrents that engulfed his home in red earth and sludge.
A woman told the Shenzhen Evening News her father was engulfed by earth as he sat in his truck.
"It's been hours since he was buried, and we're quite worried," she said.
The cause of the landslide was unclear.
One resident told Beijing Youth Daily: "I saw five or six buildings being buried. Some of them were workers' dormitories. I guess several hundred people are trapped."
Soil slid from a 100 meter hill of dirt that had been dug up during the last two years of construction work, the Beijing-based newspaper reported, citing a local resident.
Pictures on social media showed areas of land covered in mud, with rescue teams using excavators to dig for survivors.
A video clip on the mainland Chinese microblog Sina Weibo showed the site rocking amid roaring sounds.
Premier Li Keqiang called for an official investigation into the cause of the landslide, and his cabinet has sent officials to the scene to help coordinate the rescue mission.
Story: Joern Petring / DPA