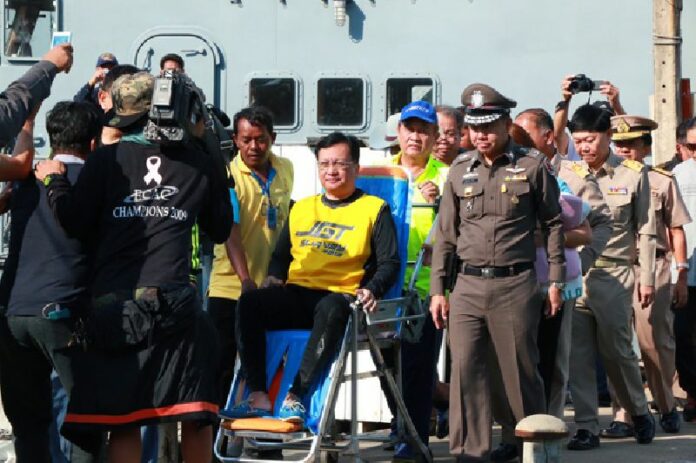 PRACHUAP KHIRI KHAN — Bodin Ratsamithet, 49, was in a 100-kilometer jet ski race on Sunday when he was swept away by strong waves.
Bodin, the rector-designate of Kasetsart University, said he clung to driftwood log in the sea for about 18 hours before being rescued by fisherman early this morning.
"While I was drifting in the sea, I found a log floating, so I held it for support and sometimes sat on it, but bamboo wood is slippery," he said this morning.
Bodin was found at about 6:30am this morning by a fishing boat about 30 kilometers off shore. Bodin said he was racing across the Gulf of Thailand from Sattahip to Hua Hin when he was swept from the jet ski. After being rescued, he said that his practice in a river had not prepared him for the difficult conditions and strong waves at sea.
He recalled seeing a rescue helicopter shining light into the sea only 100-meters from where he was floating Sunday night but was unable to signal it.
About 60 people participated in the race, and police were notified Sunday afternoon by famous jet ski racer and comedian Nakorn "Ple" Silachai that one competitor had vanished. The jet ski was later found about 31 kilometers offshore, south of Hua Hin.
Weather warnings had been issued throughout the gulf, with officials warning boats to stay ashore due to strong waves driven by a pressure front before a typhoon which had ravaged the Philippines.
Bodin said he was uninjured but was taken to Huan Hin hospital for observation.