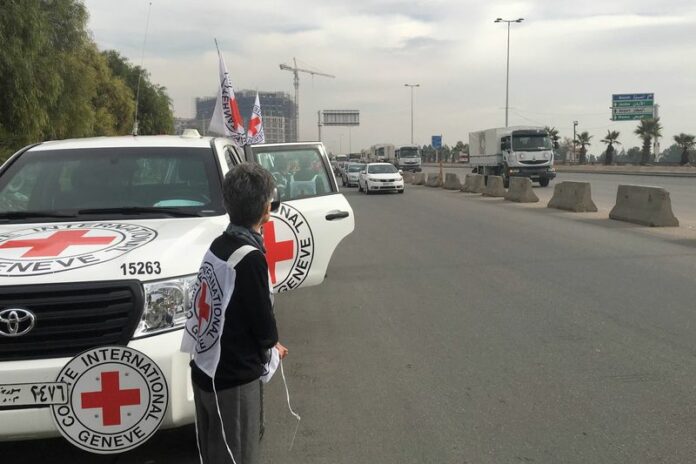 By Weedah Hamzah
DPA
BEIRUT – All the contents of an aid convoy have now been distributed to residents of the Syrian town of Madaya, where almost 30 people are reported to have died of starvation amid a siege by government forces, activists said Tuesday.
"We stayed most of the night distributing the supplies that entered," Mazen Burhan, a member of Madaya's humanitarian committee told dpa via Skype.
Some 44 truckloads of food and medical aid reached Madaya on Monday evening, the first such delivery since October. More supplies are expected on Thursday.
The United Nations said overnight that more than 400 people in rebel-held Madaya were on the brink of death and in need of immediate medical evacuation.
The town, some 25 kilometres north-west of Damascus in mountains near the Lebanese border, has been besieged by a combination of government forces and Lebanese Shiite Hezbollah fighters since July.
Images of emaciated corpses and reports that locals have been reduced to eating grass and leaves led to a worldwide outcry.
Red Cross spokesman Pawel Krzysiek, who accompanied the aid convoy into Madaya, said the effects of the siege on residents were obvious.
Children, women and elderly men he saw on the streets looked "pale, weak and skinny," Krzysiek told dpa by phone.
He confirmed that there was an urgent need for medical evacuation of patients suffering from severe malnutrition, as well as others who were suffering as a result of the limited medical facilities inside the town.
Burhan, the activist, said that locals feared that government forces and their allies in the Lebanese Shiite Hezbollah movement would reimpose the siege once the aid delivery had been completed.
One local resident, talking to dpa via Skype, appealed for the siege to be completely lifted.
"We thank God and the good people of the world who worked on sending us the supplies, but we do not want them to stop work on lifting the siege," Abu Hussein said.
"After all, we are Syrian citizens and we have the right to live in our land and have food," he added.
To reach us about this article or another matter, please contact us by e-mail at: [email protected].
Follow Khaosod English on
and
Twitter
for news, politics and more from Thailand.