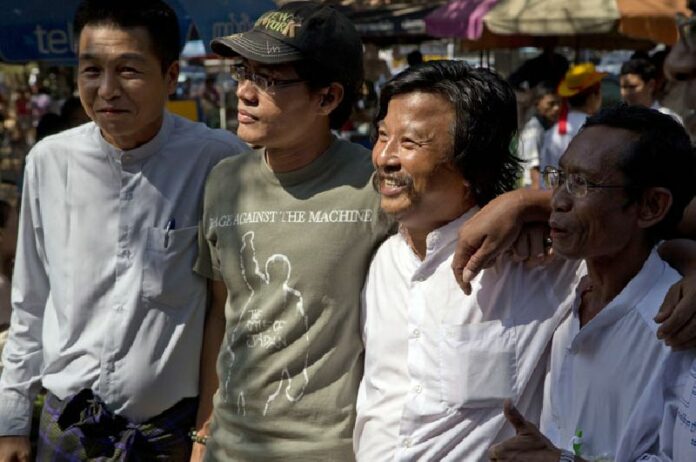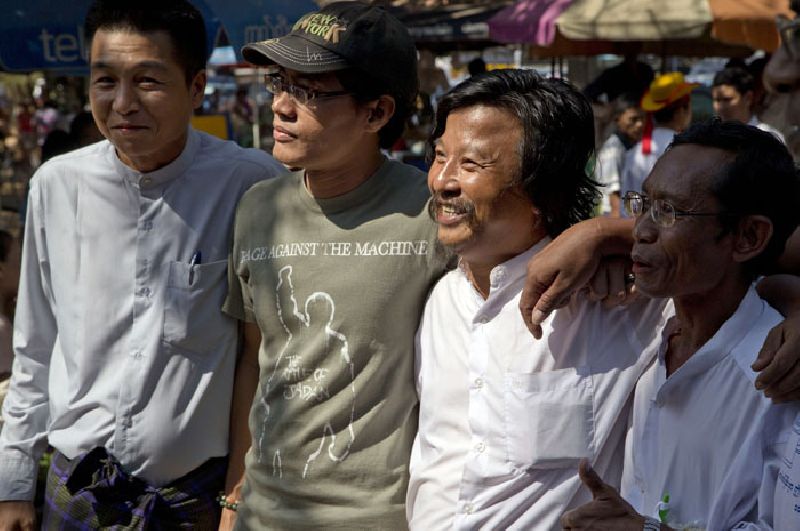 YANGON — Myanmar's military-backed government released at least 20 political prisoners Friday, just a few months before it is scheduled to hand over power to an elected, pro-democracy party.
But human rights groups hedged their praise, noting that a court on the same day sentenced a peace activist to prison for a Facebook posting.
The released detainees said prison authorities declared that they were among 101 prisoners including common criminals who were released from Insein Prison in Yangon's northern outskirts.
Among those freed, according to a prison official contacted by phone who refused to give his name, was New Zealander Philip Blackwood, who managed a bar in Yangon and last March was sentenced to 2 1/2 years in prison for insulting Buddhism in an online advertisement that showed a psychedelic depiction of Buddha wearing headphones. Blackwood's whereabouts Friday were not known.
Myanmar is overwhelmingly Buddhist, and in recent years has seen a strain of extremist Buddhist nationalism emerge in reaction to tensions with the country's Muslim minority.
"Early this morning, the prison guards called the names of 20 political prisoners and told us to pack up and get ready to go back home," said Soe Zaw, a 44 year-old political prisoner released Friday after 14 months in prison. "Our families were not informed."
More than 1,300 political prisoners have been freed by President Thein Sein's military-backed government, which took power in 2011 after an election that ended almost five decades of direct military rule. Activists say several hundred political offenders are still detained or await trial.
The latest such case involved a peace activist sentenced to six months in prison for a Facebook post that was deemed defamatory. Patrick Kum Jaa Lee, a social worker from the Kachin ethnic minority, was arrested in October for the post showing someone stepping on a photo of the military's commander-in-chief, Senior Gen. Min Aung Hlaing.
"This is not fair. I am imprisoned as an example to threaten all citizens who are using social media," he said from behind bars at the court. "We have to fight back for the truth and fight for the rights of the citizens who use social media."
At least four activists have been detained over Facebook posts in the last few months. One received a six-month prison sentence in late December.
Visiting U.S. Deputy Secretary of State Antony Blinken earlier this week urged the government release all remaining political prisoners.
Myanmar is set for a change of government after the National League for Democracy party of Nobel laureate Aung San Suu Kyi won an easy majority in last November's general election, dislodging Thein Sein's Union Solidarity and Development party, which was widely considered a proxy for the military.
"There shouldn't be any political activists in prison in this government's so-called democratic country," said Aung Myo Kyaw, a spokesperson for the Assistance Association for Political Prisoners, an independent human rights organization.
According to the group, 272 political activists were arrested in 2015, of whom 180 have been imprisoned.
"There are a lot of political prisoners still in prison. I cannot be happy because many of our fellows are still inside," said Ba Myint, a political prisoner released Friday. "We hope other political prisoners are released soon, too."
By Esther Htusan / Associated Press