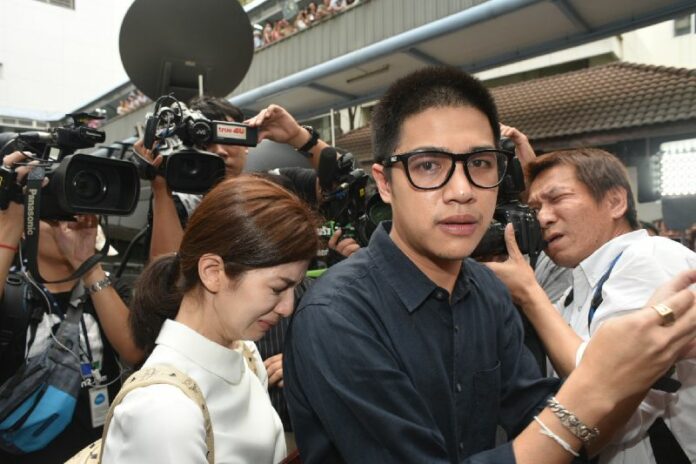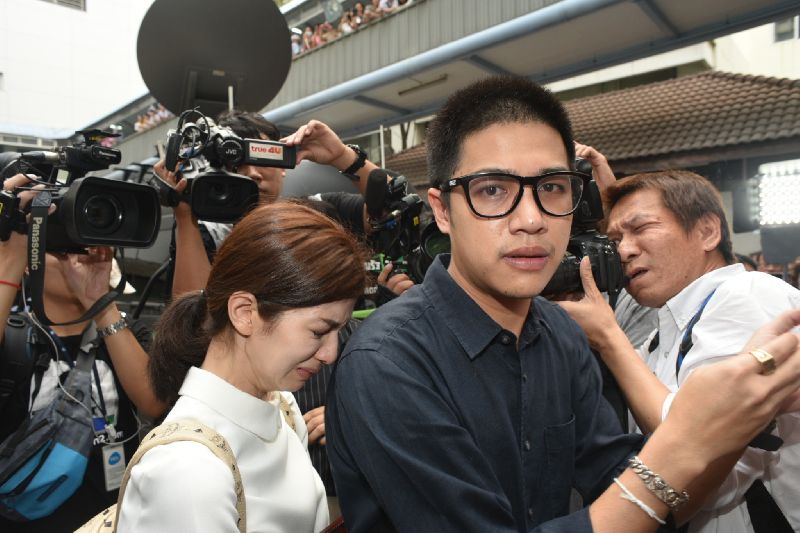 BANGKOK — Wind the clock back three months ago to a time when many people, especially those who don't watch lakorn, had never heard of Thrissadee "Por" Sahawong.
That changed when he was stricken with dengue fever and fell into a coma in November. For the next 71 days, Thrissadee's struggle for survival was beamed into every living room and onto every screen as an object of obsessive media attention, thanks to crowds of reporters camped right outside his ward at Bangkok's Ramathibodi Hospital.
The frenzy reached its zenith when Thrissadee finally died Monday. TV reporters and photographers mobbed his family as they carried his body from the hospital. One photographer even pressed his camera lens against an incense pot held by Thrissadee's brother, which was supposed to lead the late celebrity's spirit back home.
"It was a scrum. Everyone wanted a good photo, so they fought with each other. It made us forget about news value, or rights or privacy," said Weeranan Kanhar, a senior reporter with Voice TV, who described it as one of the worst days in his career. 
The backlash was swift. As though their patience with the press finally snapped, social media users condemned the obsession with Por and their disregard for his family's privacy. 
---
Media Associations Apologize to Por's Family
---
While the coverage of Thrissadee's illness and death invited the broadest condemnation, it was business as usual for a media culture out of line with international norms or human decency, where concerns of privacy and professional ethics are afterthoughts at best.
Graphic photos of car crash fatalities can be found both in print and online. Home addresses of crime suspects are routinely published. Even rape victims have had their photos plastered onto the front page of major media organizations.
The media's effort to milk the news out of Thrissadee also continues well after his death. Articles after articles published in recent days detail the family's grieving for Thrissadee, his daughter's tears, anecdotes about his memories and even supernatural occurrences attributed to the late actor's spirit.
Strong Interest, Good Business
Suriwong Aurepatipan, editor of Khaosod newspaper, said coverage of Thrissadee outlived the actor because his story took dramatic turns during the last 71 days of his life.
There was originally a news dimension to the story, as Thrissadee fell victim to the current dengue fever epidemic, which killed more than 130 people last year. But the real drama began after it emerged on Nov. 13 he had a two-year-old daughter even his most dedicated fans never knew about.
That drama wasn't lost on the tabloid media. On Nov. 28 Manager Online reported Thrissadee miraculously regained some consciousness after hearing Mali's voice, and she began the subject of countless stories and web galleries. 
"During his illness, his daughter and wife emerged. Usually, celebrities kept their spouses and children from public view," Suriwong said. "And it turned out that his wife and daughter were adorable people. They became the color of the news, and they attracted a lot of attention from the readers."
Khaosod and Khaosod English are both part of the Matichon Group. They have separate editorial teams.
The boon to business was clear. According to Suriwong, readers number increase by 100 percent during the 71 days that Por was in coma. On the day his body was removed at Ramathibodi Hospital, Suriwong said, Khaosod counted at least 1.8 million unique visitors to its site, briefly making Khaosod Online the most visited website in Thailand.
"It means that people are interested in the story. There's been a clear response," Suriwong said.
Because of the overwhelming response from readers, Suriwong said, Khaosod will continue to provide blanket coverage of Por's funeral in the upcoming days. "We will continue to report about it. It's our duty. Actually, it would be against our duty if we don't report about it, because readers are waiting to read the story," Suriwong said.
Subhatra Bhumiprabhas, director of media watchdog group Media Inside Out, said demand for a story doesn't justify unethical behavior.
"I don't buy that kind of reasoning," Subhatra said. "Is it really that necessary to do this news? The kind of reason means your ability to sell news is so poor that you have no other option."
Subhatra said she was aghast to see reporters intruding on Por's family and crowding the hospital to get the story.
"The media shouldn't do things like that. The media must report news as it really happened," she said. "They can't infringe on other people's privacy. They can't bother people in hospital … Competition is necessary, but you need to have principles, too."
Same Old, Same Old
For Subhatra, the real surprise is that the media just hasn't learned the lesson.
On Feb. 22, 2015, Channel 7 broadcast a news segment about a rape in Chonburi which showed an arrest warrant which included the full name and phone number of his alleged victim. Last week, the state-owned Thai News Agency reported the rape of a woman in Kalasin province with footage of her own home, where the rape reportedly took place. 
As a part of Thai media's taste for graphic photos in the news, Manager Online on Jan. 12 published on its website a photo of a hanged man that showed his bare buttocks. 
"We have been talking about this all the time," said Subhatra, whose organization regularly hosts media ethics discussions. "Experts, editors, everyone in the media industry have been talking about this. This is not the first case."
Just this past August there was an outpouring of netizen outrage over the media's aggressive coverage of the suicide of 31-year-old guitarist Prachatip "Singha" Musikapong, a popular figure from the Bangkok music scene best known as the guitarist for indie-rock band Sqweez Animal.
Then, as with Por, reporters got into a melee over photographing Prachatip's body, hyped the story for weeks and chased after interviews his family and girlfriend to maximize the heart-rending effect.
In response to that, Subhatra said the director of the Thai Journalist Association promised her in person that the organization would be "serious" about imposing its code of conduct.
"Yet it happened again. So it reflects that there's only talk but no real implementation," Subhatra said.
Association director Wanchai Wongmeechai admitted his organization has failed to improve ethical standards. He said in an interview with Khaosod English that while the association has a lengthy code of conduct, "no one bothers to read it."
He vowed to do more, such as hosting a panel discussion for reporters and photographers to brainstorm ideas for a more ethical media. 
"Society thinks our past efforts have not been enough. We criticized each other, yet the same mistakes still happened," Wanchai said. "So this time, we will do more."  
He blamed fierce competition among media agencies and new troops of untrained reporters for the low standards of ethics in the media landscape.
Weeranan, the Voice TV reporter who was at the hospital when Thrissadee died, said he noticed more photographers and reporters than ever at the scene, a phenomenon he attributed to all the new "digital TV" channels in business.
"It's inevitable. There are more media, but the size of audience stays the same," Weeranan said. 
Change at the Top
Both Wanchai and Subhatra said it's up to the editors, supervisors and owners of each media agency to enforce ethical guidelines on their staff. 
"Editors must tell them: Don't do this, don't do that. If editors say don't do it, reporters won't do it," Subhatra said.
Asked how his association will convince editors and media owners to hew to the same ethical and quality standards, Wanchai said the organization is planning to offer workshops and courses for news executives. He said the program will begin soon, though he gave no specific date.
Weeranan agreed. According to the reporter, he didn't feel pressure as much as many other reporters at the scene because his editors did not demand him to act like a paparazzi. 
"The only thing they wanted was an update of [Thrissadee's] conditions. They wanted to know whether he was going to be better or worse. They wanted to know about how doctors will cure him," Weeranan said. "They didn't want gossip, which celebrities came to visit today, they didn't want photos of Vanda or Mali." 
But even so, Weeranan said his competitive instinct to get the story took hold in the throes of the mob and made him act in a way he later regretted. During the scrum in front of the hospital, Por's wife, Vanda, walked past him. So he took out his smartphone and snapped a photo of her at close range, then tweeted it.
"I felt like I was showing to the audience how the event was unfolding," he said of his rationale at the time.
The audience did not like it however. They criticized Weeranan for intruding on Vanda's moment of grief and accused him of using desperate measures to build his following on Twitter.
The unexpected reaction made him realize that what journalists think the audience wants to see, and what they actually want to see, are different.
"I got to see that people are now very serious about media ethics," he said. "It made me learn. It made me more conscious about the issue." 
To reach us about this article or another matter, please contact us by e-mail at: [email protected].
Follow Khaosod English on
and 
Twitter
for news, politics and more from Thailand.