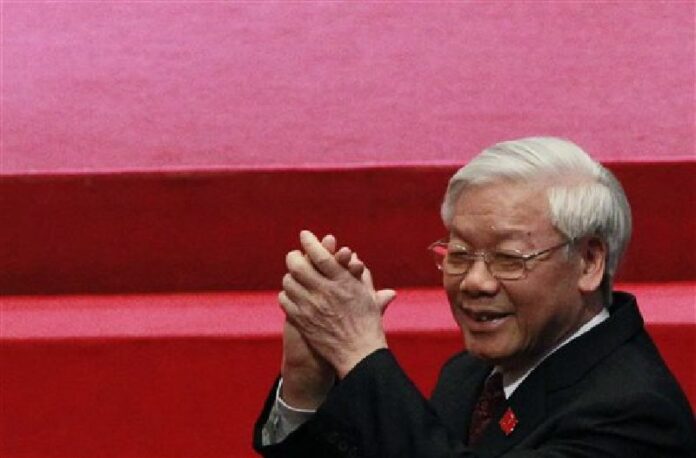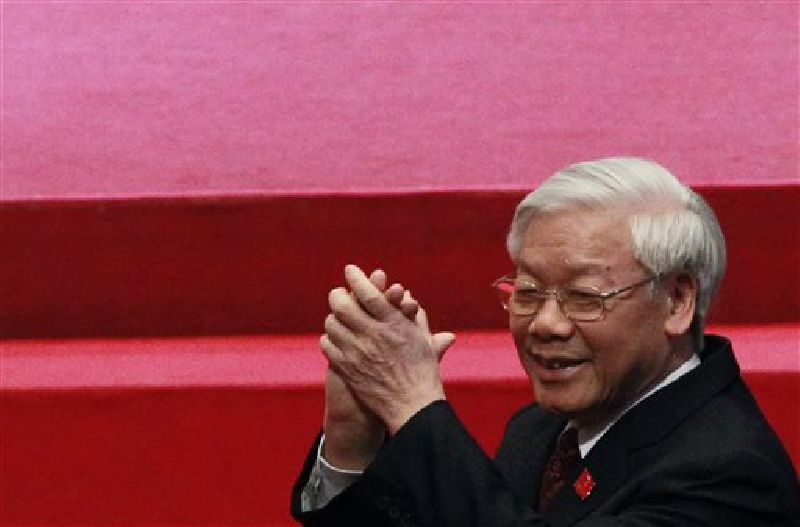 HANOI — Vietnam's Communist Party Wednesday re-elected its chief Nguyen Phu Trong for a second term, officials said, an expected outcome that sees the conservative ideologue cementing his hold on power.
The party's congress elected Trong to a 19-member Politburo, the all-powerful body that handles the day to day affairs of the government and the party, and subsequently as the general-secretary, the de facto No. 1 leader of the country.
Also elected to the Politburo are deputy Prime Minister Nguyen Xuan Phuc, who is expected to become the prime minister, and Minister of Public Security Tran Dai Quang, who will be the country's new president, said the officials.
The officials spoke on condition of anonymity because they were not authorized to speak to the media.
The renewal of the leadership means little change for Vietnam.
Trong is expected to continue to push economic reforms, which his vanquished rival had led for the last 10 years. Despite having a reputation for being pro-China he is not likely to be totally subservient to Beijing as that would risk massive anger from ordinary Vietnamese who harbor a deep dislike and historical suspicion of China.
"Many people were afraid that a conservative trend would prevail if Mr. Trong is re-elected. But … whoever they may be, and however conservative they may be, when they are at the helm they are under pressure to carry out reforms," Le Hong Hiep, a visiting Vietnamese fellow at the Institute of Southeast Asia Studies in Singapore, told The Associated Press.
"However, we have to wait to see whether the reforms they carry out will be successful or not, or how far they can go," he said.
The Communist Party is entitled by the constitution to govern and Vietnam's 93 million people have no direct role in electing the leaders of the 4.5 million-member party.
Last week, Trong faced a brief challenge from Prime Minister Nguyen Tan Dung, his No. 2. But in behind-the scenes maneuvering, Dung was persuaded to withdraw from the contest.
It is believed that as a compromise, Trong will not serve his full five-year term but may hand over power to another leader mid-way through it.
Story: Vijay Joshi / Associated Press