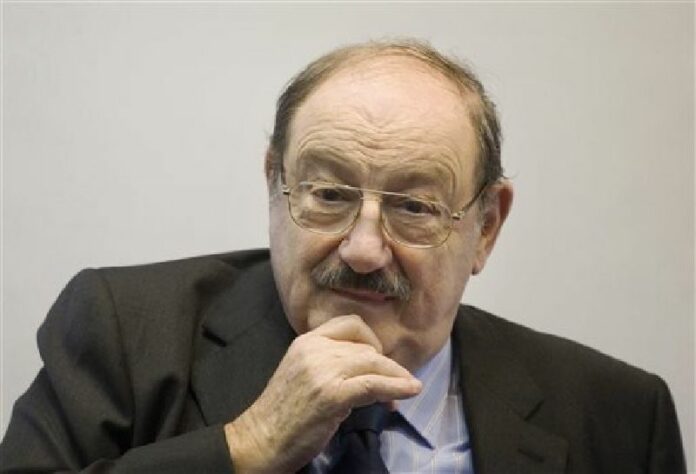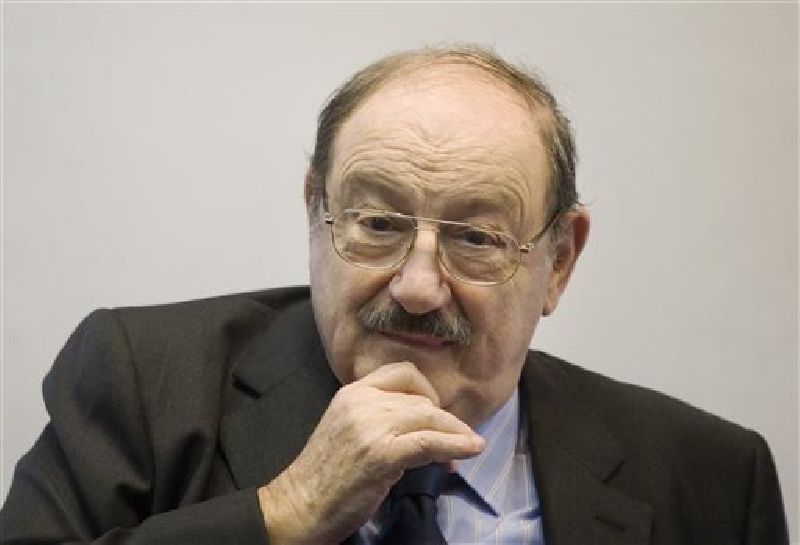 ROME — Italian author Umberto Eco, who intrigued, puzzled and delighted readers worldwide with his best-selling historical novel "The Name of the Rose," has died.
Spokeswoman Lori Glazer of Eco's American publisher, Houghton Mifflin Harcourt, told The Associated Press that Eco died Friday at 84. She could not immediately confirm the cause of death or where he died.
Author of a wide range of books, Eco was fascinated with the obscure and the mundane, and his books were both engaging narratives and philosophical and intellectual exercises. The bearded, heavy-set scholar, critic and novelist took on the esoteric theory of semiotics, the study of signs and symbols in language; on popular culture icons like James Bond; and on the technical languages of the Internet.
"The Name of the Rose" transformed him from academic to international celebrity, especially after the medieval thriller set in a monastery was made into a film starring Sean Connery in 1986. "The Name of the Rose" sold millions of copies, a feat for a narrative filled with partially translated Latin quotes and puzzling musings on the nature of symbols. But Eco talked about his inspiration with characteristic irony: "I began writing … prodded by a seminal idea: I felt like poisoning a monk."
His second novel, the 1988 "Foucault's Pendulum," a byzantine tale of plotting publishers and secret sects also styled as a thriller, was successful, too —though it was so complicated that an annotated guide accompanied it to help the reader follow the plot.
In 2000, when awarding Eco Spain's prestigious Prince of Asturias Prize for communications, the jury praised his works "of universal distribution and profound effect that are already classics in contemporary thought."
Eco was born Jan. 5, 1932 in Alessandria, a town east of Turin; he said the reserved culture there was a source for his "world vision: a skepticism and an aversion to rhetoric." He received a university degree in philosophy from the University of Turin in 1954, beginning his fascination with the Middle Ages and the aesthetics of text. He later defined semiotics as "a philosophy of language."
He had always loved storytelling and as a teenager wrote comic books and fantasy novels.
"I was a perfectionist and wanted to make them look as though they had been printed, so I wrote them in capital letters and made up title pages, summaries, illustrations," he told The Paris Review in 1988. "It was so tiring that I never finished any of them. I was at that time a great writer of unaccomplished masterpieces."
Eco remained involved with academia, becoming the first professor of semiotics at the University of Bologna in 1971. He also lectured at institutions worldwide and was a fellow at elite colleges like Oxford University and Columbia University. Twenty-three institutions had awarded him honorary degrees by 2000.
But Eco was also able to bridge the gap between popular and intellectual culture, publishing his musings in daily newspapers and Italy's leading weekly magazine L'Espresso.
Eco started in journalism in the 1950s, working for the Italian state-owned television RAI. From the 1960s onwards, he wrote columns for several Italian dailies. He also wrote children's books, including "The Bomb and the General" ("La Bomba e il Generale").
In 2003, Eco published a collection of lectures on translations, "Mouse or Rat? Translation as Negotiation," and a year later he wrote the novel "The Mysterious Flame of Queen Loana," a story about an antiquarian book dealer who loses his memory.
Recent works include "From the Tree to the Labyrinth," an essay on semiology and language published in 2007 and "Turning Back the Clock," a collection of essays on various subjects, ranging from the recent wars in Iraq and Afghanistan, anti-Semitism and his staunch criticism of Silvio Berlusconi's conservative government. His most recent novel, "Numero Zero," came out last year and recalled a political scandal from the 1990s that helped lead to Berlusconi's rise.