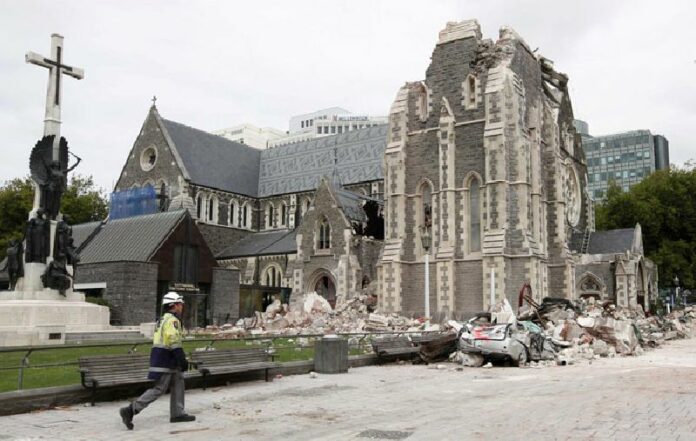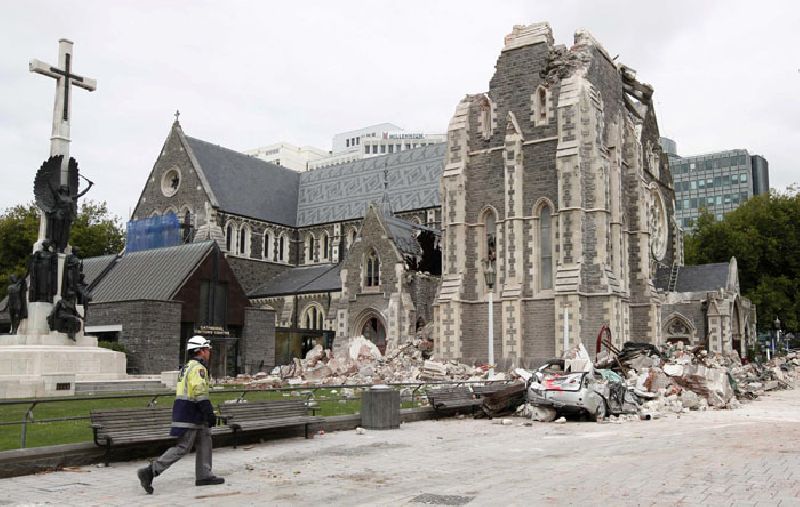 WELLINGTON, New Zealand — A service to commemorate the fifth anniversary of a deadly earthquake in the New Zealand city of Christchurch turned ugly Monday when someone threw goop over the government minister responsible for quake recovery efforts.
Hundreds of people attended the botanical gardens service in New Zealand's second-largest city to memorialize the magnitude-6.1 quake that killed 185 people on Feb 22, 2011.
As people chatted after the service ended, somebody tossed the unidentified goop from a plastic ice cream container over Earthquake Recovery Minister Gerry Brownlee, his spokesman confirmed.
Police said they arrested a 41-year-old man in connection with the incident and charged him with assault. Police said the man had left the service but was found a short time later.

Someone tipped ice cream onto Earthquake Recovery Minister Gerry Brownloee. Source: News Hub
Brownlee has proved a polarizing figure in the rebuilding of Christchurch. Many people frustrated at delays in collecting insurance or at the slow pace of the downtown reconstruction have blamed him.
Earlier in the day, Brownlee was heckled by a man during an outdoor radio interview: "You've done a bad job. A bad, bad job," the man yelled after first shouting an insult. On air, Brownlee laughed off the incident.
Brownlee's spokesman, Nick Bryant, said the lawmaker didn't wish to comment on the incident at the service because it had become a legal matter.
It's the second time this month that somebody has thrown something at a New Zealand lawmaker. On Feb. 6, a woman threw a pink toy penis at Economic Development Minister Steven Joyce to protest an international free trade deal.
Earlier during Monday's memorial service, speakers made the point that while there had been big progress since the quake, there was much left to be done.
"There is still some way to go until Christchurch is truly reborn," said Governor-General Jerry Mateparae.

A plaque commemorates those killed in a mall during the 2011 earthquake in Christchurch, New Zealand. Photo: Nick Perry / Associated Press

Speakers also mentioned the disquiet they felt when the region was rattled again last week by an earthquake, one of the strongest since 2011. Last week's quake knocked items from shelves and triggered rock falls, but didn't cause major damage.
Emergency responders and officials representing more than a dozen foreign nations were among those who read out the names of each of the victims who died in the quake.
Mateparae said it changed the region forever.
"We recall the ordered streets and gracious buildings of a city renowned for its style and substance," he said. "We recall how, in an instant, that physical landscape was shattered. We recall how dust and the sound of sirens filled the air."
He said many people have faced exhaustion, stress, frustration and financial hardship in the years since, but that he hopes the end of that period is fast approaching and people can look at their city with renewed optimism and energy.
Christchurch Mayor Lianne Dalziel said there was an incredible opportunity to reimagine and reinvent the city.
"But we must acknowledge there are still many people who have unanswered questions," she said. "People with unresolved insurance claims, people who are still living in the houses that were damaged five years ago. None of them with any certainty of when they will find closure."
Story: Nick Perry / Associated Press