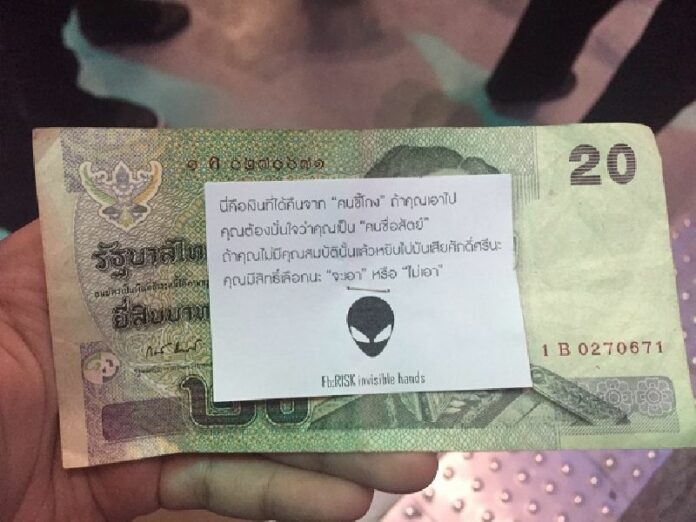 BANGKOK — Mystery money poured down on passers-by at Siam Square last night, with someone soon after taking credit online for the ethically challenging bounty.
Dozens of 20 baht banknotes appeared to be thrown from an upper floor of the Siam Square One shopping mall Sunday evening, according to the Twitter user @padpaddpaddy. Enclosed with the note was a small piece of paper with a "schwa" alien logo and name of a Facebook page called "Risk Invisible Hands."
"This is money gotten back from a tricky person. If you take it, you must be sure that you are honest," read the small piece of paper. "If you are not qualified but you take it, you will lose your honor. You have the right to choose whether to take it or not to take it."
The admin of the page claimed responsibility, saying it was the money he unexpectedly got back from a scammer with the help of social media. It didn't go provide further detail.
The admin then claimed to use it to inspire honesty in other people.
"I hope what I did will remind all of you when the chance to deceive or to lie to others comes," it wrote. "The message you read today will remind you how have you answered yourself back then!"
The page turned popular overnight with almost 6,000 likes. Whether they hate or admire it, its followers remain unsure of its real purpose.
"You spent 20 baht per person to campaign for honesty," wrote Facebook user Patiphan Jongrak in Thai. "You are doing good and don't reveal yourself; so cool."
Others were more skeptical about the motive behind the stunt.
"Will you start selling cream when your page is famous?" wrote Facebook user IMay Matchantika.
One user saw an efficient investment in social media.
"Not so much money spent, but you get to promote your page and get featured in media," wrote Facebook user Kittisak Kidha. "I gotta say this is the best marketing."
20 baht banknotes rain down Sunday evening from the Siam Square One shopping mall in Bangkok. Photo : @padpaddpaddy / Twitter