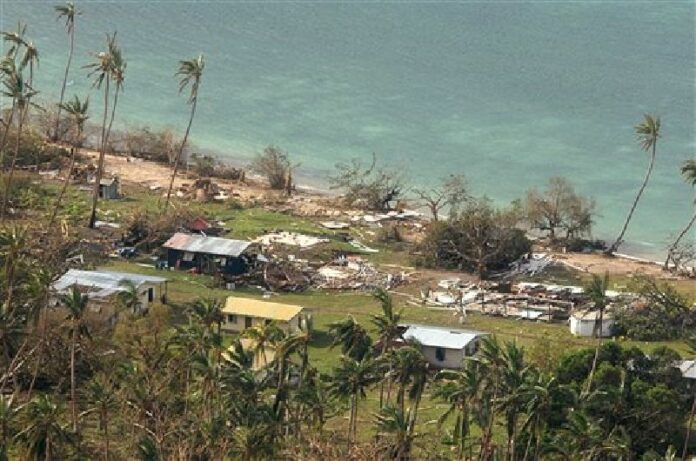 WELLINGTON, New Zealand — Ten people have died on a single small island in Fiji as the total death toll from a powerful cyclone climbed to 29, officials said Tuesday.
Government spokesman Ewan Perrin said the death toll on Koro Island had reached double figures and that most buildings there had been heavily damaged or flattened.
He said a relief vessel with about 30 people aboard had arrived at the island with medical supplies, food and water, and teams were helping build temporary shelters for the 4,500 residents.
"It's one of the worst hit," Perrin said.
He said officials also have fears about nearby Taveuni Island, home to about 12,000 people, because they've managed to have only limited contact with people there.
Winds from Cyclone Winston, which tore through the Pacific Island chain Saturday and early Sunday, reached 177 miles (285 kilometers) per hour, making it the strongest storm in Fiji's recorded history.
Getting emergency supplies to the group's far-flung islands and remote communities has been the Fiji government's top priority.
Alice Clements, a spokeswoman for UNICEF, said the aerial footage coming in showed a corridor of destruction over places like Koro Island.
"The imagery is heartbreaking," she said. "You're looking down and expecting to see a village and instead you're seeing a field of debris."
She said one priority is to ensure children get back to school because studies have shown it helps them recover faster emotionally.
United Nations Under-Secretary-General Stephen O'Brien said in a statement he was concerned by the devastating impact the cyclone was having on Fiji.
"Whole villages have been destroyed, homes and crops have been damaged, power lines have been cut and more than 8,100 people are currently sheltering in over 70 evacuation centers," O'Brien said.
O'Brien said Fiji was leading the response and had asked for international help. Australia has so far pledged 5 million Australian dollars (129 million baht) in aid and New Zealand has pledged 2 million New Zealand dollars (46 million baht).
Perrin said France, the U.S. and China have also provided or pledged support. He said relief agencies, including Oxfam and the Red Cross, have been helping with humanitarian efforts and that the Fijian government has set up a disaster relief fund.
Home to 900,000 people, Fiji has more than 100 inhabited islands, and authorities are having difficulty communicating with some of the more remote islands in the wake of the cyclone.
Phone communications have been rapidly restored in many areas but in other areas the damage was severe and would take longer to fix, Perrin said.
He said the electricity network across Fiji remained patchy, and in some cases power had been deliberately cut to prevent further damage. He said clean water was also a challenge, and people were being asked to boil their water, treat it with chemicals or drink bottled water.
Story: Nick Perry / Associated Press