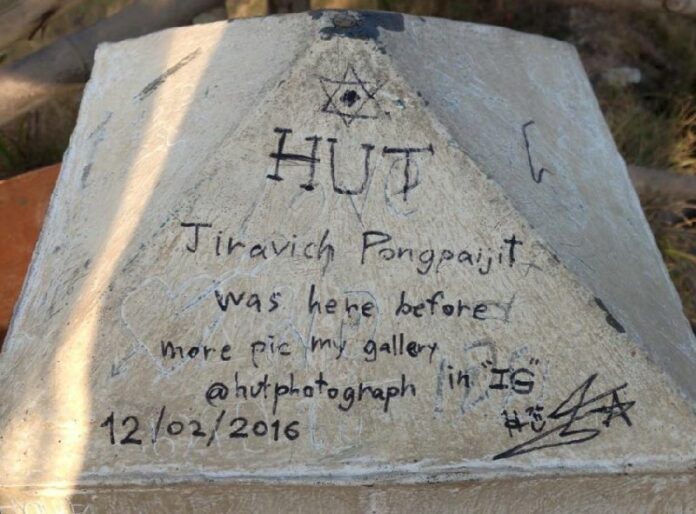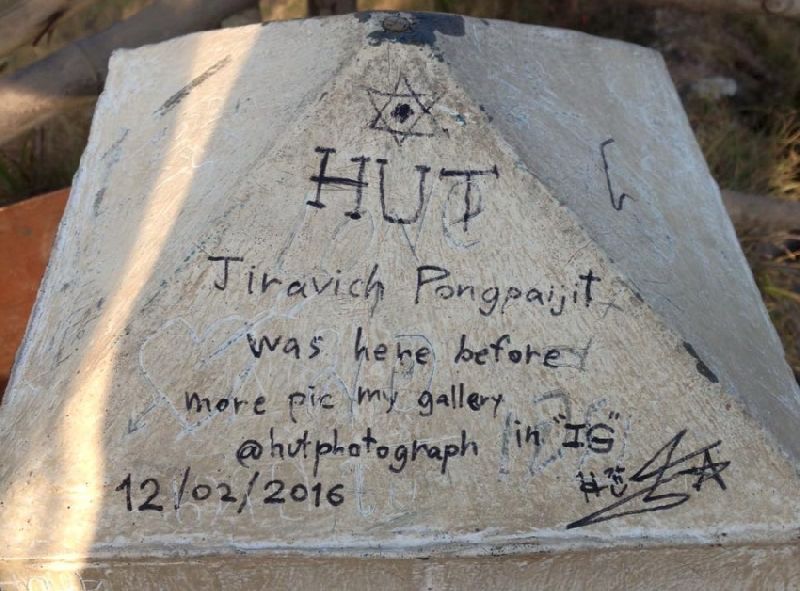 BANGKOK — A famous singer has apologized for vandalizing a stone that marked the Thai-Laotian border in northern Thailand, following a storm of criticism on social media.
Jiravich 'Hut' Pongpaijit, who claimed earlier on Instagram that this was done to promote local tourism, said on Monday he now regretted the graffiti that he scrawled on the stone, which sits atop Chee Dao Peak in Chiang Rai province.
"I wrote on it because I saw that someone else had already written on it, and I didn't know it would be this big issue," Jiravich, who is better known by his stage name 'Hut the Star,' told reporters at Don Mueang Airport on Monday. "Today I am traveling to meet the village chief and his deputy to apologize for and erase what I have done."
The controversy arose on Saturday when a member of Pantip webforum posted a photo of the stone on Chee Dao Peak, a popular hiking destination on Thai-Laotian border. The photo shows the stone with graffiti that says in English: "HUT Jiravich Pongpaijit was here before. more pic see my gallery @hutphotograph in 'IG' 12/02/2016."
"So this is how they promote their IG these days?" commented Pantip user 1995078 in the thread, which was soon widely shared on social media.
Photo of the vandalized border stone posted to Pantip webboard by user 'morfun klangna' / Pantip
Jiravich also posted his own photo of Chee Dao Peak on his Instagram account, but did not show the graffiti. "My plan to promote Chee Dao Peak has been accomplished," Jiravich wrote.
When another Instagram user chastised Jiravich for vandalizing public property in the name of a tourism campaign, the singer responded harshly.
"You should ask the pioneers of Chee Dao and the village chief in that district why they allowed me to write on it," Jiravich wrote, using the Thai derogative word 'mueng.' "If I am not allowed to write it, why would I be stupid enough to do it?"
But Tassanai Suthaphot, chief of Vieng Kaen district, told reporters he talked to village chiefs and not one of them said they told Jiravich to do such a thing.
"They all said the same thing: they didn't tell anybody to write that message," Tassanai was quoted as saying by local media. The district chief also said he has ordered the border stone to be repainted.
The Instagram post appears to have been deleted by Tuesday.
In his news conference on Monday, Jiravich admitted no one told him to leave the graffiti as he claimed earlier on his now-removed Instagram post.
"As for the exchange in the comments in which I said someone ordered me to write it," Jiravich said. "Actually, I mean someone asked for my help to promote the attraction, but no one ordered me to write it. When I was there, I was with my mother. My intention is to promote Chee Dao Peak, because it's a new tourist attraction of Chiang Rai … I had good intentions."
The 24-year-old singer rose to prominence after he joined a reality TV singing competition called The Star in 2012. Since then he has starred in a number of soap operas and films, including the 2015 erotic flick Mae bia.
Teeranai Charuvastra can be reached at [email protected] and @Teeranai_C.