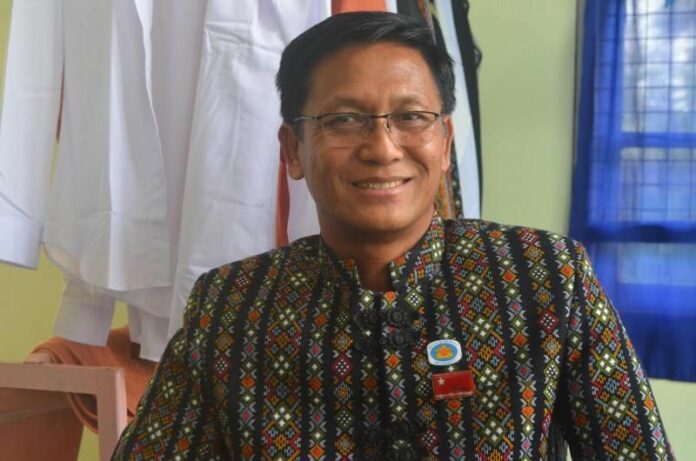 NAYPYITAW — In a historic parliament session on March 10, the National League for Democracy (NLD) nominated Htin Kyaw, a longtime Aung San Suu Kyi aide, and Henry Van Thio, a NLD Upper House lawmaker, for the presidency.
Htin Kyaw is the main candidate to become a 'proxy president' under Suu Kyi's authority, as the NLD leader is controversially blocked from the position by the military-drafted Constitution. The Union Solidarity and Development Party nominated two candidates for presidential roles ahead of a vote in the NLD-dominated parliament; the army has yet to announce its candidate(s).
Henry Van Thio's nomination for a possible vice-presidential role drew attention as he would be the first an ethnic Chin to take up such a high government position. The candidate represents constituency (3) in Chin State, an impoverished and isolated region on Myanmar's western border with India. The father-of-three, who turns 58 in August, was an army captain for 20 years before retiring. He followed up his military career with a stint at the Ministry of Industry (1) that lasted almost a decade. 
In a short meeting with reporters at his residential quarters in Naypyitaw, he talks about what he plans to do if he is elected as the vice-president of Myanmar. Nominee Htin Kyaw was not available for comments to the media.  
What is your first reaction to being nominated as one of the vice-presidential candidates? 
 It was just four or five days ago that Daw Aung San Suu Kyi offered this position to me. I never aspired to this status. My intention was just to present the needs of my region to the parliament. So, I was quite emotional to (be nominated as a candidate) because it was unexpected. Our Chin State has fallen behind in development compared to other states and regions. Because I'm doing my best for Chin State, my family is supportive and proud of me. 
If you were elected as vice-president, how much will you be able to work beyond the nominal figurehead role? 
 My view is that Aunty Suu (Kyi) is bringing all the ethnic groups on board. As an ethnic representative, I wan to strive to build peace in all ethnic regions. The main thing to do in Chin State is to improve the transportation infrastructure. If I were elected as vice-president, this will be the first time that someone from the Chin ethnic group could serve in that capacity. 
As a former military officer, do you think you would be able to play a significant role in any discussions with the military? 
(The people) voted NLD because of the belief that the party led by Aunty Suu is able to develop the country beyond where it is at the moment. We are trying to build our nation to reach global standards, as such both the military and the NLD desire to fulfil the people's wishes and the needs of the country. 
Story: Swe Win and Ei Cherry Aung