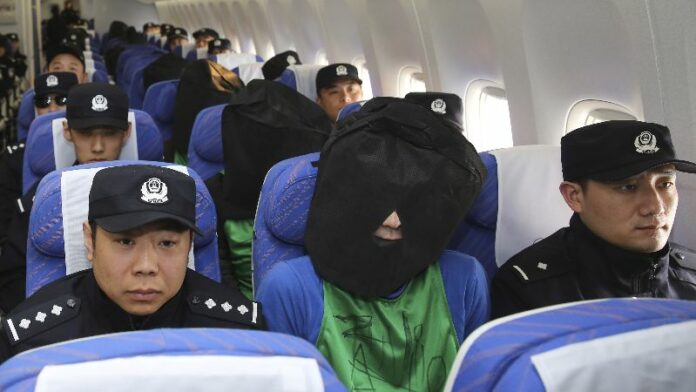 KUALA LUMPUR — Taiwan on Friday was trying to prevent Malaysia from deporting 52 Taiwanese criminal suspects to China amid an ongoing battle over jurisdiction involving the self-ruled island.
A Foreign Ministry statement said an initial group of 20 of those detained on suspicion of committing wire fraud had been due to be returned to Taiwan on Friday. However, it said Malaysian officials had delayed the flight, saying they were awaiting legal approval.
Taiwan's statement said its officials were actively engaged in talks to pressure Malaysia to "bring home our citizen suspects to be investigated."
Malaysian officials, speaking anonymously because they weren't authorized to talk to media, confirmed that Chinese officials had requested the suspects be sent to China. The officials said the case was still under discussion but were unable to give further details.
The latest battle over Taiwanese deportations came after Kenya sent 45 Taiwanese suspects to China instead of Taiwan. Beijing wants to investigate them for defrauding victims in China by posing as police officers and insurance agents over the phone in order to obtain banking details.
China claims jurisdiction in such cases where the victims are Chinese, and says the perpetrators aren't given due punishment when they are returned to Taiwan.
Taiwan has protested that Kenya violated the legal process and accused Beijing of violating a tacit agreement not to interfere in each side's citizens' legal affairs abroad. A Taiwanese delegation is expected in Beijing soon to negotiate the matter.
Some see such moves by China as an attempt by China to assert its claims to sovereignty over the island and legal authority over its residents. The sides split amid civil war and China has long sought to isolate Taiwan diplomatically by preventing it from maintaining formal ties with most countries, including Malaysia and Kenya, where China's economic cloud lends it political influence.
Chinese state broadcaster CCTV has covered the Kenya deportations extensively, with suspects shown being led from the plane in prison smocks with bags over their heads.
Others were shown in front of police and television cameras confessing to their crimes and apologizing to their victims.
Story: Eileen Ng, additional reporting Christopher Bodeen / Associated Press