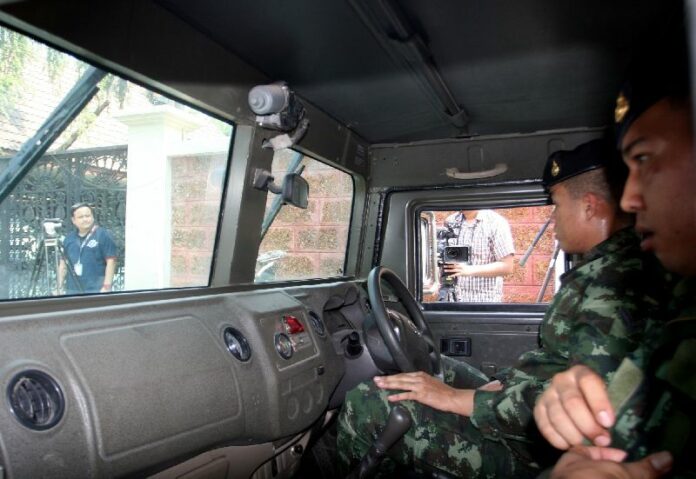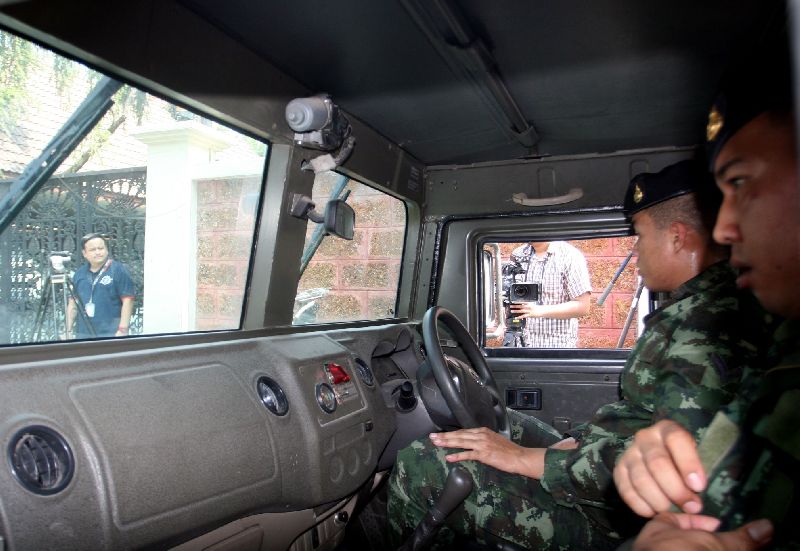 BANGKOK — Soldiers remained camped today outside the residence of former Pheu Thai MP Watana Muangsook, where they waited to take him into custody for an "attitude adjustment" session.
Watana has been away from home since the military sent soldiers to take him into detention Thursday, following a statement he made on Facebook that he would vote against the junta's draft constitution when it's put to a referendum in August.
---
Watana Wanted for 'Attitude Adjustment' Again
---
"Right now a group of soldiers is still stationed in front of my home, and even my wife and children can't go inside. They have to find a new place to sleep," Watana wrote Friday on Facebook. "Please withdraw your forces. On April 18, at 11am, once I'm done with my business, I will certainly go meet you."
Watana complained the tactic was unnecessary harassment.
"Please don't cause trouble for other people who are not involved in this," he wrote. "This is not the way of a 'gentleman soldier."
An army officer rings the doorbell at Watana's residence on Thursday, summoning him to come out. Watana was not home.
Watana has been been held in military custody for what the junta called "attitude adjustment" because of his online criticism of its regime, known formally as the National Council for Peace and Order.
The latest summons came after Watana wrote Wednesday that he would not accept the the new charter draft written under the junta's oversight because of its undemocratic features. The draft will be put to a vote in August.
"I insisted that I will continue to express my opinion, because it is my constitutional freedom," Watana wrote. "I am not trying to cause any conflict. I am not a regular troublemaker looking for a fight."
Just eight hours after he posted his status, Watana wrote an update that the military phoned him and ordered him to surrender himself at an army base within that day. Watana said he declined the summons because he's away with his family for the Songkran holiday and promised to turn himself in by Monday.
The junta has clamped down on any public challenge to its regime or the constitution draft, leading to fear among its critics that the upcoming referendum will not be an open and fair one.
Junta spokesman Piyapong Klinpan said on Friday that Watana's criticism amounted to misrepresentation of the regime's intentions.
"His expression clearly belies his deceit, distortion, lies, violation of agreements and attempts to incite insubordination and law-breaking," Col. Piyapong said at a news conference.
He added that the military is still waiting for Watana to surrender himself, and urged the public to "have confidence and trust in the government's maintenance of stability and peace and order of the country."
Related stories:
Junta Bars Pheu Thai Politician From Leaving Country
Politico Accuses Soldier of Punching Him
Soldiers 'Politely' Stalk Pheu Thai Politician
Activists Expect Increased Use of Detention Before Charter Vote
Teeranai Charuvastra can be reached at [email protected] and @Teeranai_C.