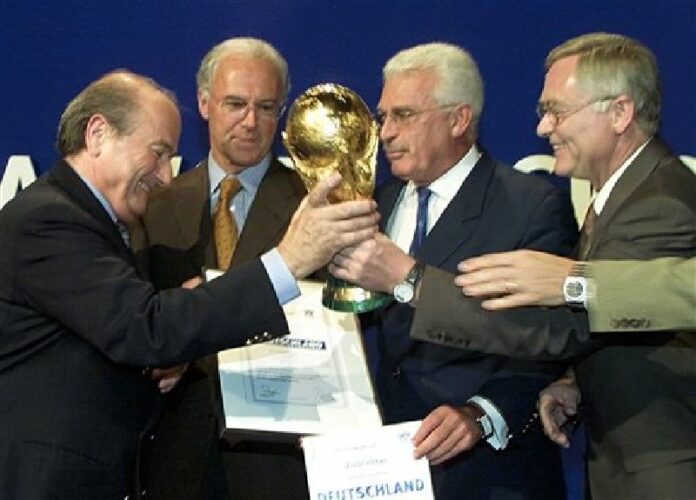 ZURICH — Former FIFA president Sepp Blatter was asked by Switzerland's foreign ministry last year to help persuade an African president to leave office.
Blatter offered Burundi president Pierre Nkurunziza an ambassador's role in world soccer as the nation fell into violent turmoil, according to his new book, which was launched on Thursday.
Blatter's intervention was supported by the United States, he claims in "Sepp Blatter: Mission and Passion Football," which was published in German.
After Nkurunziza said last April he wanted an unconstitutional third presidential term, a bloody military coup failed to remove him. Blatter said his offer to Nkurunziza followed an approach by Yves Rossier, the state secretary of the Swiss ministry.
"I proposed to the president, who is a big football fan, in front of witnesses that if it would be an advantage for his country and him, FIFA could deploy him as an ambassador for football in Africa or in the whole world," Blatter is quoted saying in an interview section of the 300-page book.
"Unfortunately, that never happened," Blatter said of the offer, which was rejected.
Nkurunziza then won a disputed election in July and continues to lead his troubled nation.
On Thursday, the Swiss ministry confirmed there was contact between Blatter and Rossier.
"The intention was to contribute to a peaceful solution in order to prevent the current crisis in Burundi," the ministry said in a statement, adding that Switzerland "never asked president Nkurunziza not to run for the office of president again."
Blatter's picture-led book reflects on his 41 years at scandal-hit FIFA, which ended in February. It includes photographs of Blatter with U.S. President Barack Obama, Russian President Vladimir Putin and Pope Francis.
The book had been scheduled for release before the Feb. 26 election to replace Blatter as FIFA president, but was delayed.
Blatter is awaiting an appeal hearing date at the Court of Arbitration for Sport to challenge a six-year ban from soccer by FIFA. He was suspended for a financial conflict of interest over a payment given to UEFA President Michel Platini. Platini goes to CAS on April 29 to appeal against his six-year ban.
Blatter is the subject of a Swiss criminal investigation over the payment and for approving the sale of undervalued World Cup television rights for the Caribbean. That deal benefited disgraced former FIFA vice president Jack Warner, who appears in the book in the photograph of Blatter with Obama at the White House in 2009.
The FIFA election was won by former UEFA general secretary Gianni Infantino, who Blatter says in the book once applied for a job at an unspecified date in the FIFA legal department.
"Without success," Blatter wrote.
Story: Graham Dunbar / Associated Press
To reach us about this article or another matter, please contact us by e-mail at: [email protected].