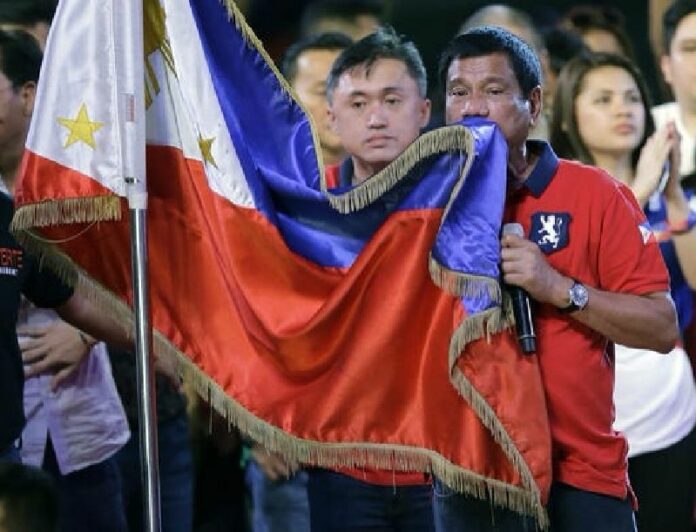 MANILA, Philippines — The outspoken city mayor who is the front-runner in the Philippine presidential race drew the largest crowd Saturday as the candidates held their final rallies, despite efforts by the president to block his election bid over fears he could threaten the country's democracy.
After crisscrossing the archipelago nation, the five presidential candidates, led by Mayor Rodrigo Duterte, converged in the vote-rich capital Manila as three months of bruising campaigning came to an end ahead of Monday's election.
About 300,000 people turned up at Duterte's rally at a historic grandstand by Manila Bay where presidential inaugurations have been held, according to an initial police estimate. Crowds at the other candidates' gatherings were much smaller based on police counts.
"All of you who are into drugs, you sons of bitches, I will really kill you," Duterte told the huge crowd, using his typically coarse style of speaking. He said he would risk his life to fulfill a bold promise to end crime and corruption within months if he wins.
"I have no patience, I have no middle ground, either you kill me or I will kill you idiots," he said as the crowd cheered.
At the end of his speech, Duterte tried to shift from his crude demeanor, promising that if he wins, "I'll be decent."
Duterte's jubilant allies declared that the election was all but decided.
Ronald Holmes, president of independent pollster Pulse Asia, however, said the race, one of the most closely fought in the country's electoral history, remained too tight to call.
Duterte's lead of 11 percentage points over former Interior Secretary Mar Roxas and Sen. Grace Poe in Pulse Asia's final poll would be difficult to overtake, but it can still be "wiped out" depending on sudden loyalty shifts by voters, Holmes said by phone.
On the eve of the final day of campaigning, President Benigno Aquino III made a desperate call on candidates to agree to an alliance to defeat the brash Duterte, who has been likened to U.S. Republican presumptive presidential nominee Donald Trump for his provocative remarks but has topped election polls.
SWAT members of the Philippine National Police provide security to the campaign motorcade of presidential candidate Vice-president Jejomar Binay and congressman Manny Pacquiao, who is running for senator in Monday's national elections during their campaign rally in Navotas north of Manila, Philippines, Friday, May 6, 2016. Photo: Bullit Marquez / Associated Press
Duterte's lead in the polls can be overcome if his trailing rivals — mainly Roxas and Poe — join hands, Aquino said, implying that some of them should back out and support a single aspirant.
Under the Philippine electoral system, a candidate who gets the most votes is proclaimed the winner, even if no one gets a majority.
Poe, however, refused an invitation by Roxas, who is backed by Aquino, to meet and discuss an arrangement where she would be forced to back out. Vice President Jejomar Binay also said he would not step aside. Sen. Miriam Defensor-Santiago, who has trailed far behind in the polls, said she would never surrender.
Duterte's camp said calls for an alliance against him "reeks of stench of defeat."
"It's an admission that a victory by Mayor Rodrigo Duterte has virtually become inevitable," said the mayor's national campaign manager, Leoncio Evasco Jr.
A longtime mayor of southern Davao city, Duterte, 71, courted controversy with his profanity-laden speeches, vulgar jokes and devil-may-care irreverence, but has successfully tapped into public insecurities with a bold promise to wipe out crime and corruption in three to six months if he is elected.
The national police chief has doubted that campaign promise. Police have issued statistics showing Davao city, where Duterte has served as mayor for more than 22 years, placed fourth among 15 major Philippine cities with the highest number of crimes from 2010 to 2015.
"I thought he was like Batman and Superman combined," Aquino said sarcastically of Duterte's anti-crime pledge.
Aquino, business executives and church leaders felt that Duterte crossed the line when he joked about wanting to have been the first to rape an Australian missionary who was gang-raped and brutally killed by inmates in a 1989 jail riot.
When the Australian and U.S. ambassadors sniped at his joke, Duterte asked them to shut up and expressed openness at the possibility of severing ties with major Western allies if he wins the presidency. He also has threatened to close Congress if lawmakers try to impeach him if he wins next week and has said he would allow Marxist guerrillas to play a political role in his government.
Duterte also once cursed Pope Francis, who had caused a huge traffic jam during a visit to Manila last year that trapped the mayor for hours. When stunned bishops reacted, Duterte apologized.
A senator has threatened to immediately try to impeach Duterte if he becomes president.
Sen. Antonio Trillanes IV has filed a corruption complaint alleging the mayor hired nonexistent employees and kept a huge amount in a joint bank account with his daughter that he did not declare publicly in 2014, as required by law.
Duterte denied any wrongdoing, but he and his camp initially issued differing explanations that set off confusion.
Story: Teresa Cerojano and Jim Gomez / Associated Press
To reach us about this article or another matter, please contact us by e-mail at: [email protected].