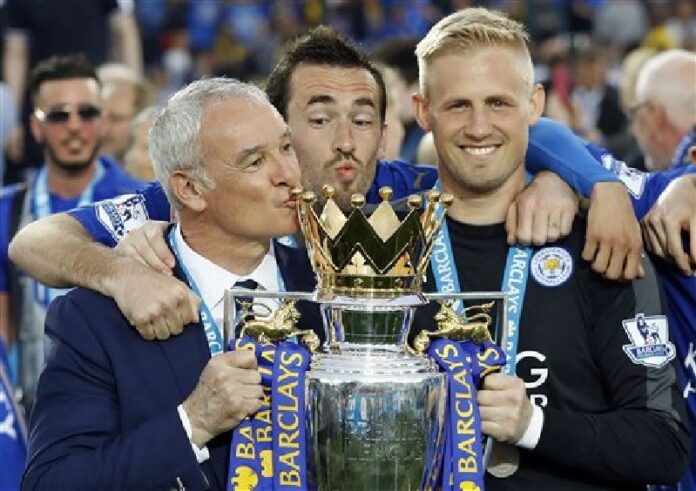 LEICESTER, England — In scenes that would have seemed absurd a year ago, Leicester captain Wes Morgan collected the English Premier League trophy on Saturday after one of the most improbable turnarounds by a sports team.
"It's the best time of my life," Morgan, who joined Leicester as a second-tier club four years ago, said on the field. "You just want to enjoy every minute."
After the preseason 5,000-1 title longshots got their hands on the biggest prize in English football, fireworks erupted on the King Power Stadium pitch before yellow and blue streamers cascaded from the roof. Ticker-tape emblazoned with the lyric to fans' song "Jamie Vardy's having a party" also covered the seats.
The top-scoring striker has powered the 132-year-old Foxes to their first top flight title by contributing 24 goals, with two of them coming in a swaggering 3-1 victory over Everton before the trophy presentation.
The striker, who signed from non-league Fleetwood Town four years ago, only missed out on a hat trick on his return from a two-game suspension when he missed a second penalty.
It was apt that midfielder Andy King was also on the score sheet. The lifelong Leicester player has been on the journey as the club climbed back from the third tier in 2009 to the top flight only two years ago.
Just a year ago, King and his teammates feared they were going to make an instant return to the second tier, and were relegation candidates at the start of this season.
But powered by Vardy's goals, Riyad Mahrez's trickery, and Kasper Schmeichel's saves, Leicester confounded the odds to surge to the summit.
Leicester has embarrassed big-spending clubs from Manchester rivals United and City to Chelsea by winning the world's richest soccer league without lavish spending.
Although Leicester has been owned for six years by Thai duty free group King Power, the squad is largely a collection of bargain buys and players cast off by bigger clubs.
Vichai Srivaddhanaprabha applauds beside the trophy as Leicester City celebrates becoming the English Premier League soccer champions at King Power stadium in Leicester, England, Saturday, May 7, 2016. Photo: Matt Dunham / Associated Press
At times, club chairman Vichai Srivaddhanaprabha seemed to hold onto the trophy longer than his players on the field as he was followed by a picture of the Thai king.
"I always believed in the power of our spirit," he wrote in Saturday's matchday magazine. "It is a spirit that has spread beyond Leicester, taking our story to the hearts of the world."
Thousands of fans gathered outside the stadium more than four hours before kickoff, before a deluge washed out the sunshine.
Hundreds of Italians also traveled by bus and plane to Leicester without tickets just to be part of a story that has enthralled the world beyond football fans. They have been captivated by how compatriot Claudio Ranieri turned the team into England's first first-time champions since promoted Nottingham Forest's 1978 success — an era before the financial disparities were so vast.
The most famous Italian at the celebrations was tenor Andrea Bocelli, who serenaded Ranieri on the field before the game to sing "Nessun Dorma," the aria popularized in England during the 1990 World Cup.
"The cameras want to see if you cry," Ranieri later recalled thinking. "Today I said, 'No.' But emotions inside me were at the top … I tried to stay calm without the emotion."
Ranieri's managerial career has taken in some of Europe's biggest clubs — from Juventus to Chelsea — but only at Leicester with its modest budget has he become a title winner.
For the crowning moment of his career, Ranieri was joined by family, friends, and former players.
"He's always been a calm manager in all circumstances, both when the team is doing well and when they're not," Vittorio Pusceddu, who played for Ranieri at Napoli and Fiorentina in the 1990s, said as he walked through Leicester to the stadium in the afternoon sun. "A manager has to do that, he has to instill calm in the environment. He's very good at that and that's what happened (at Leicester)."
Leicester's ownership was ridiculed for hiring the 64-year-old Ranieri last July. He'd been out of work since the previous year after being fired by Greece. And his only job in the Premier League at Chelsea ended 11 years earlier.
Ranieri's prospects of avoiding relegation were written off. How he has proved his critics wrong and beguiled even non-Leicester fans with his command of the team and entertaining asides that shifted the focus away from players chasing history.
Above the Cank Street Gallery in central Leicester was written one such sound-bite. "Dilly ding, dilly dong" was uttered by a giddy Ranieri last month as he conveyed his excitement that a first career title was looming. The nonsensical but endearing one-liner has been turned into a fans' song and also featured on ticker-tape that covered fans in the stadium.
"I want to say to you we are champions because you pushed us," Ranieri told 32,000 fans in the stadium.
Leicester has lost only three times in 37 games in the title bid. Not bad for a season when survival was the objective.
"We are staying up," Leicester fans sang before bellowing out the words they will never tire of chanting: "Champions of England we know what we are."
Ranieri is already thinking about next season and the team's first foray into the Champions League, where Leicester will be top seed in the group stage as a domestic title winner. Leicester's previous highpoints have come by winning the second-tier League Cup three times.
"This is a magical season," Ranieri said. "Let me go to the sea and recharge my batteries. Let's start next season with the same ambition, same humility."
Domestically, it's anticipated the faded Premier League powers from deposed champion Chelsea to record 20-time Premier League winner Manchester United will be far stronger.
"We'll show this wasn't a fluke," fan Alan Sewell said. "I don't think it was a fluke but the rest of the world does."
Story:
Rob Harris / Associated Press
Related stories:
Leicester Wins Premier League for First Time
Thai Volleyballers Chase Leicester Success to Same Magic Monk
To reach us about this article or another matter, please contact us by e-mail at: [email protected].