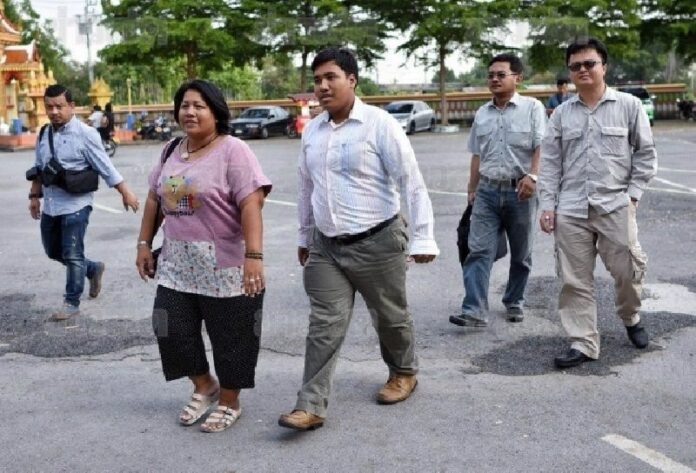 By Pravit Rojanaphruk
Senior Staff Writer
BANGKOK — The Military Court granted temporary bail today to Patnaree Charnkij, mother of a prominent anti-junta activist. Patnaree is charged with defaming the monarchy.
Patnaree, 39, is the mother of activist Sirawith "Ja New" Seritiwat, who last night led a candlelight vigil outside the Crime Suppression Division in Bangkok with dozens of others to show their support for her.
Patnaree is accused of committing lese majeste by allegedly receiving a message defaming the monarchy and failing to reprimand the sender.
---
Activist's Mother Defamed Monarchy With Her Silence, Police Say
---
Bail was set at 500, 000 baht. Conditions for release include agreeing not to participate in political activities and being barred from travelling abroad without the court's permission.
Human Rights lawyer Arnon Nampa told Khaosod English by phone this afternoon that 500,000 baht was raised by the Resistant Citizen group to pay the guarantee.
Patnaree is expected to be released between 3pm and 4pm on Sunday afternoon from Bangkok Women's Correctional Institution.
Related stories:
Thailand Morphing into Orwell's '1984' Under Junta, Warns Former Senator
Activist's Mother Defamed Monarchy With Her Silence, Police Say
Anti-Junta Activist's Mother Charged With Royal Defamation
Follow Khaosod English on Facebook and Twitter for news, politics and more from Thailand. To reach Khaosod English about this article or another matter, please contact us by e-mail at [email protected].