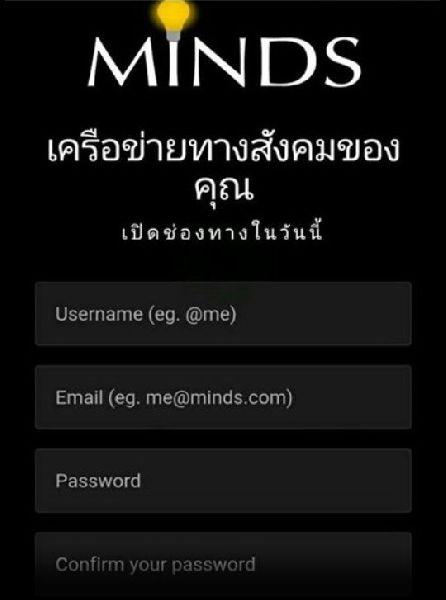 By Pravit Rojanaphruk
Senior Staff Writer
BANGKOK — Unsure that using Facebook affords users adequate privacy, an increasing number of anti-junta netizens are setting up new accounts on a different social media platform.
Some have doubts about whether the new platform is actually any safer or if it's a good idea to leave Facebook which has around 35 million users in Thailand.
The panic was caused by the arrest of the so-called "Facebook 8" at the end of April and the claim by some of the detainees that the junta boasts an ability to unilaterally access their Facebook message boxes.
The new social media platform chosen by some is minds.com. Its use was popularized in the last few days by some prominent anti-junta activists such as exiled academic Pavin Chachavalpongpun and Red Sunday Group leader Sombat Boonngam-anong.
Minds is a New York-based social networking site that was launched in June. Although lacking the large numbers of users compared to more established platforms, it does claim to offer greater security to customers.
"A new choice if Facebook is no longer secure," wrote Sombat on Facebook on Friday, recommending the new platform where he opened a new account under the username @nuling.
On Friday, Pavin sent a message to Facebook founder and chief executive Mark Zuckerburg claiming that Facebook has collaborated with the junta. Pavin also posted the message on his Facebook wall.
"You might be aware that the Thai junta has been intruding in private conversations on Facebook of some users apparently with approval of your company. The junta then used such private conversations – some contained anti-junta and anti-monarchy elements – to prosecute Facebook users in Thailand. This is appalling and it goes against the right to our privacy. I urge you to investigate the issue seriously before more people in Thailand are to be arrested…."
Ordinary netizens are also advocating leaving Facebook as the chilling effects spread and confusion reigns.
"If Facebook is no longer okay, we should leave Facebook. Let us meet at www.minds.com," wrote Facebook user Chotiros Lookkaew Naksut, who opened a new account there.
"I'm trying a new social media platform (that is claimed to be safer) with coded entry and better information protection," wrote postgraduate student Rackchart Wong-arthichart.
"Let's fucking ditch Facebook," another Facebook user, Bowornpan Kittipakorn wrote in English on his wall.
Some are skeptical if the flight to minds.com will make anything safer. "Forget about social media, I don't even believe that email is safe," wrote Art Pratchayaa on Facebook on Friday.
Mass migration to a new social media platform would make it even easier for the junta to spy and pry on its opponents, Chiang Mai-based influential online anti-junta critic Pipob Udomittipong warned on Friday.
"Moving into a 'new home', a small home, will make it easier for them to monitor and would be playing into their hands," Pipob wrote on Facebook on Friday.
Another skeptic, Kriangkrai Pathomnetikul, predicted that anti-junta Thai Facebook users now opening accounts at minds.com will eventually return to Facebook as they would end up forming a ghetto of likeminded political views on minds.com.
Kriangkrai added that there's no guarantee that the junta's moles aren't already being planted in the new social media site.
A Facebook user by the pen name of "Niw Wong," reminds those who may have broken the law by typing something illegal and then deleting it that things are not that easy.
Niw Wong claimed that: "According to Facebook's privacy policy, messages on facebook cannot be deleted anymore. If you click on 'delete' the messages will only be invisible to you. US law enforcement agencies can access this information at their own liking, without judicial review."
A petition on change.org for Facebook to explain if Thai Facebook users have been compromised by a possible collaboration between Facebook and the junta was launched on Friday. By Sunday afternoon it had received over 2,000 signatures.
Facebook could not be reached for comment. On Sunday those advocating opening new accounts on minds.com such as Sombat and Pavin are both still very active on Facebook.
It appears that minds.com will be used only as an alternative, extra means of communication and won't replace Facebook for the foreseeable future.
Related stories:
Thailand Morphing into Orwell's '1984' Under Junta, Warns Former Senator
Fear is Junta's Best Weapon Against Our Online Public Sphere
Exiled Academic Denounces Alleged Harassment of Family by Junta