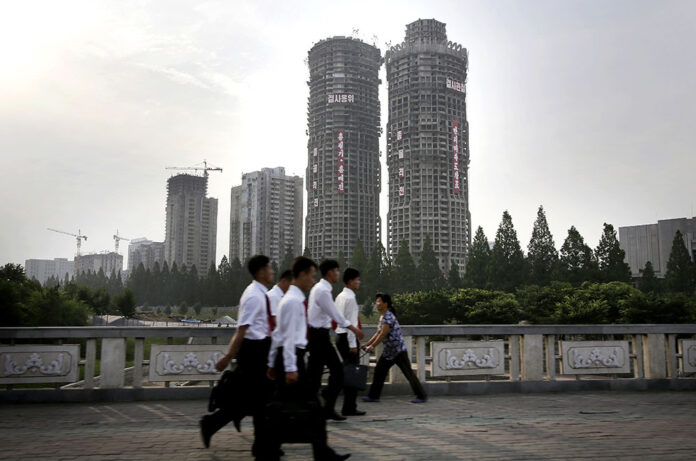 PYONGYANG, North Korea — Hoping to show the world his country is doing just fine despite sanctions and outside pressure over its nuclear weapons program, North Korean leader Kim Jong Un has put his soldier-builders to work on yet another major project – a series of apartments and high-rises that are once again changing the Pyongyang skyline.
The project is intended to show "the spirit of the DPRK standing up and keeping up with the world, despite all sorts of sanctions and pressure by the U.S. imperialists and their followers," and "the truth that the DPRK is able to be well-off in its own way and nothing is impossible for it to do," state-media quoted Kim as saying when he ordered the beginning of construction in March.
Under giant red banners calling for "Mallima Speed" – a reference to a mythical winged horse that could travel tremendous distances at supernatural speed – his soldier-builders are now putting up the frames for each new floor at the reportedly breakneck-pace of 14 hours to get it all done by the end of the year.
The project comes as North Korea is mobilized on its second "speed campaign" this year and follows the recent completion of "Future Street," a cluster of high-rise apartments, office buildings and riverside parks dedicated to the nation's scientists.
In something of a defiant wink at all the international criticism of the country's nuclear weapons program, that whole district has a nuclear motif. Its centerpiece high-rise is shaped like the classic illustration of an atom when seen from above, a metallic atom sculpture stands over the entrance to its main avenue and neon atoms glow from the sides of two of its larger buildings at night.
Kim's late father, Kim Jong Il, also had a penchant for big buildings.
One of them, the pyramid-shaped, 105-story Ryugyong hotel got bogged down in various problems and, decades after construction began, has yet to open. But the other, an impressive high-rise apartment district near the city's iconic Kim Il Sung Square, has become one of Pyongyang's most impressive sights, though it's unclear how good life in the apartments is since foreigners are rarely allowed to visit and never without prior notice.
Because of its modern look, fancy restaurants and upscale shopping centers that sell brand-name products, the district has been unofficially dubbed "Little Dubai" within the small foreign community here. Some others have nicknamed it "Pyonghattan." It was completed in 2012, after Kim Jong Il's death.
Pyongyang's new Pyonghattan, officially called "Ryomyong Street," is to have the country's tallest apartment building, at 70 stories, along with a 50-story building and a handful of smaller ones in the 30-40 story range.
It will reportedly provide more than 3,000 apartments — all air-conditioned — and have a nursery, kindergarten, laundry, post office and other public buildings and "service amenities" for its residents. Kim has directed it be a "green street," with lighting and heating systems that use solar panels and geothermal energy. Buildings will also have rooftop hydropic greenhouses and rooms that make maximum use of sunlight.
Along with the stated goal of being more modern, there's a practical reason for such designs — power outages are a longstanding problem in North Korea.
Pyongyang has a more reliable power supply than any other city, but solar panels on apartment balconies have become a common sight in the capital and elsewhere over the past several years. And while apartments in tall new buildings are often conferred as rewards for hard work or loyalty, scenic views from top-floor apartments are undoubtedly less attractive when elevators can't always be relied on to work properly.
The construction push comes as North Korea is mobilized on a 200-day drive intended to boost production and energize the economy in a show of devotion to their leaders. Such speed drives, which were also common in communist countries during the Cold War, are held every so often in the North.
A 70-day drive was held in the run-up to the May ruling party congress.
Story: Eric Talmadge