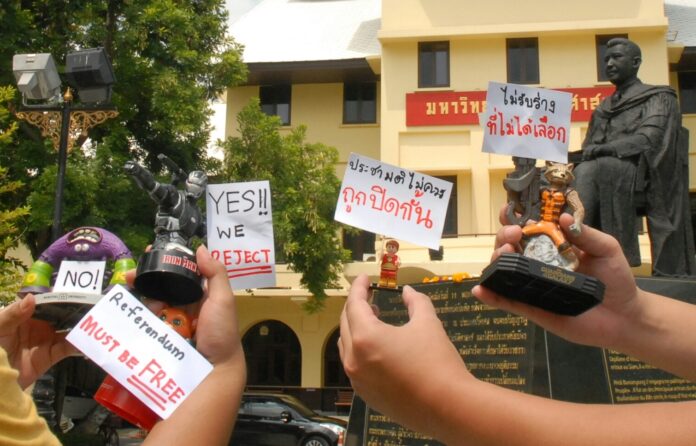 BANGKOK — The Constitutional Court today affirmed the legality of a draconian law barring campaigning before the charter draft is put to an August vote on a day which also saw the junta finally answer what will happen if it goes down in defeat.
In a brief statement to the media, the court said the law passed in late April is consistent with the provisions on civil rights and expression written in the interim constitution put in place by the junta following its 2014 coup d'etat.
"Therefore, it does not pose any problem pertaining to its legality under the 2014 Interim Constitution of the Kingdom of Thailand," the court statement read.
The court's ruling provides a legal imprimatur previously unavailable to the junta, whose hand is seen behind the Election Commission's law, which criminalized public campaigning in a level of public suppression unseen since Thailand was last under direct military rule in the 1970s.
According to the law activists had asked the court to overturn, any "rude" or "aggressive" remark that urges the public to vote one way or another is punishable by 10 years in jail.
Yingcheep Atchanont, a representative of the rights advocacy group that filed the lawsuit, said he will accept the verdict even though he believes it violates both the constitution and international human rights treaties.
"Because of this law, under the current circumstances, there's very little campaigning. People can go to jail just because they hand out leaflets. It's wrong," said Yingcheep of the Internet Law Reform Dialogue, or iLaw.
The referendum on the charter is set to take place Aug. 7. The junta has urged the public to accept the new constitution, while critics of the regime oppose it and have campaigned against it.
Speaking to reporters Wednesday, junta chairman Prayuth Chan-ocha ended months of silence on what would happen if the public rejects the charter written by his appointees. He said they'll begin the entire time-consuming process anew for a third time.
"If the constitution gets rejected, we will make a new constitution under the existing rules," Gen. Prayuth said. "And when I talk to the people, I know that the people have expectations, and I will have to succeed in doing it for the people."
The first constitution draft was rejected by a set of lawmakers appointed by the junta in 2015, pushing back the junta's "roadmap" for restoring democracy to 2017.
If the present draft is rejected by the public, it could add years to the wait for Thailand to see an election.