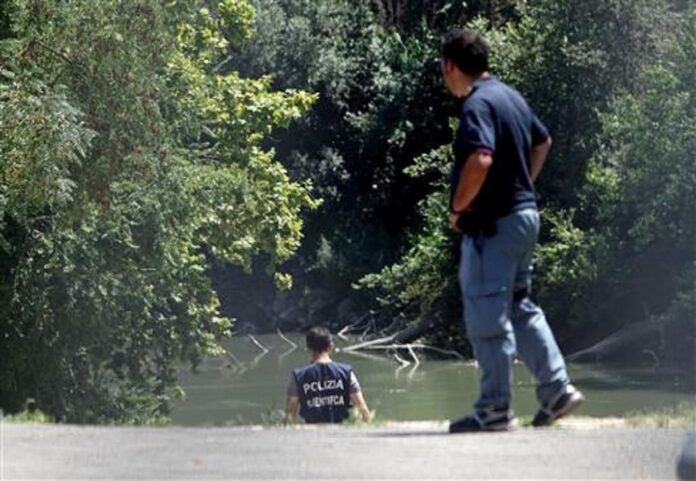 ROME — Italian police say they have detained a homeless man in the death of an American student whose body was found in the Tiber River.
Police identified the suspect as Massimo Galioto, a 40-year-old man from Rome. In a statement Tuesday, police said he was taken into custody because he was "seriously implicated" in the murder.
Police on Monday pulled the body of Beau Solomon from the Tiber River. The 19-year-old student from Wisconsin had last been seen early Friday morning at a pub, shortly after arriving in Rome.
John Cabot University, an English university in the Italian capital, confirmed his death on Monday evening.
Solomon had recently completed his first year as a personal finance major at the University of Wisconsin-Madison.
"We express our most heartfelt condolences to the Solomon family and to all those who loved Beau," said a statement from the Rome-based English-language university where Solomon had just arrived for an exchange program.
An earlier statement from the university said it was "alerted by his roommate, who reported that he had lost contact with Beau around 1 a.m. … and was worried when he did not see Beau at orientation" Friday morning.
Cole Solomon, Beau Solomon's 23-year-old brother, told the Milwaukee Journal Sentinel on Monday that investigators were treating the incident as a murder. He said his brother's body was found with a head wound and blood on his shirt. He added that thousands of dollars were charged to Beau Solomon's credit card after his disappearance.
Cole Solomon and Beau Solomon's father, Nick, didn't immediately respond to messages The Associated Press left for them on social media Monday. No residential telephone listing could be found for Cole Solomon and calls to two possible listings for Nick Solomon rang unanswered.
Italian state TV said EUR1,500 (about 58,800 baht) were run up on the cards at a Milan store, the day after, and hundreds of miles (kilometers) away from where he was reported last seen in Rome. The TV report said investigators will check security cameras near the store for any possible image of who might have used the cards.
Solomon's family was in Italy and John Cabot University was in contact with Italian authorities, the U.S. Embassy and his U.S. college, its President Franco Pavoncello told The Associated Press.
Without citing sources or names, the Italian news agency ANSA said two people claimed to have seen a man throw a person into the Tiber the night Solomon disappeared. Later ANSA said the witnesses were two Italians.
Sky TG24 TV said the witnesses reported seeing someone pushed into the area on the Tiber near Garibaldi Bridge. That bridge is heavily trafficked, and in that area of the Tiber's banks, an annual summer fair featuring artisans selling wares and booths offering food is drawing big crowds nightly.
While the cause of Solomon's death is unclear, there have been several recent cases of American students in Rome running into trouble, especially during a night out drinking. Many American students are surprised to find that alcohol can be easily acquired in Italian supermarkets, bars or restaurants.
In 2012, a U.S. student was allegedly stabbed by his roommate, a fellow student at John Cabot University, after what police said was a night of alcohol and possible drug use. The stabbed student survived.
Also in recent years, a young American man recently arrived in Rome for studies died after falling off a low, street-side wall where people sit at nighttime and landing on the concrete banks yards (meters) below. Another young American male student, who had been reported missing after leaving a bar, was found dead near train tracks in a Rome tunnel, apparently hit by a train in the early morning hours.
Story by: Nicole Winfield, Todd Richmond