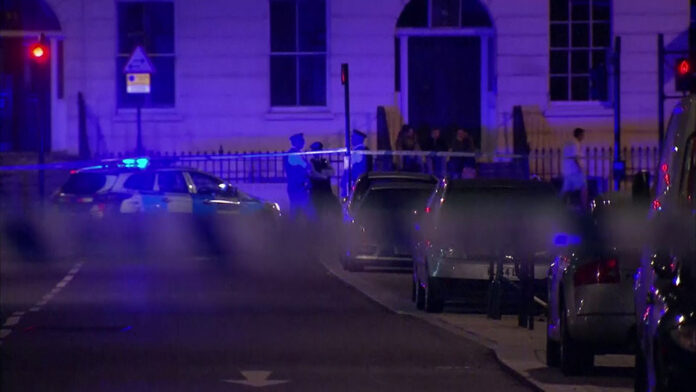 LONDON — Police put more officers on London streets Thursday after a man stabbed a woman to death and injured five other people near the British Museum, just days after authorities had warned the public to be vigilant in light of attacks inspired by the Islamic State group in other parts of Europe.
Assistant Commissioner Mark Rowley, head of counterterrorism at the Metropolitan Police, said early indications suggested that mental health was a factor in the attack, which occurred at around 10:30 p.m. Wednesday in central London's Russell Square. Police used a stun gun to subdue the 19-year-old suspect, who was arrested on suspicion of murder and is in custody at a London police station.
"We are keeping an open mind regarding the motive, and terrorism remains one line of inquiry being explored," Rowley said.
Police said the victim who died was a woman in her 60s but gave no other details. Two victims remain in the hospital, while others have been discharged.
Helen Edwards, 33, who lives in the area, came out for a walk and found armed police near a subway station. In a city where memories of the July 7, 2005, attacks on public transport remain raw, she immediately suspected that an attack had occurred.
"There is always that thing in the back of your mind," she said. "You live with that threat of terrorism or other crimes in the back of your mind. It wasn't a huge shock I guess."
London Mayor Sadiq Khan urged the public to keep calm and remain vigilant, urging people to be the first line of defense against any form of attack.
"We all have a vital role to play as eyes and ears for our police and security services and in helping to ensure London is protected," he said.
The incident came within hours of an announcement by London police that they were putting more armed officers on the streets. The idea was to sustain public confidence following attacks by Islamic State-inspired groups in Europe.
The move was important because police in Britain do not carry guns for the most part — a principle that remains unchanged. Even with the additional armed officers, most of London's 31,000 police officers will not be armed.
"In some of our big iconic locations, we've already got armed patrols — if you look at Parliament, Downing Street — so it's not entirely new," Metropolitan Police chief Bernard Hogan-Howe said Wednesday. "I think people understand that where you are going to have people as enemies who've got guns, we've got to have guns."
The deployments underscore the challenge police face in responding to situations in which they may be outgunned — or face a pressing need to subdue a suspect. Hogan-Howe warned over the weekend that an attack in Britain was a case of "when, not if."