BERLIN — A lawyer for an elderly woman who filled in spaces on an art work depicting part of a crossword at a German museum says she contends that she was completing the piece, not damaging it.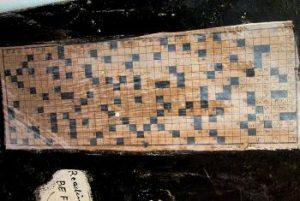 Officials at Nuremberg's Neues Museum filed a criminal complaint after the 90-year-old, who hasn't been identified, last month filled in blank spaces with a ballpoint pen on avant-garde artist Arthur Koepcke's 1965 work, "Reading-work-piece." She apparently took literally the phrase "Insert Words" at the edge of the picture.
Read: Avant-Garde Crossword Art Spells Trouble For Pen-Wielding German Woman, 91
Lawyer Heinz-Harro Salloch said Wednesday that the woman argued she hadn't damaged the piece "but only completed it as the artist intended," news agency DPA reported.
She told police that the picture even gained in value, he added.
The museum has since removed her additions.